Black GOP Stars Rise In A Party That's Still Awkwardly White
March 9, 2014
There's never been a better time for black Republicans seeking office, yet even as some black candidates are hitting their stride, the party's support among blacks is still at rock bottom.
Read full story...
Destroyed By Rockefellers, Mural Trespassed On Political Vision
March 9, 2014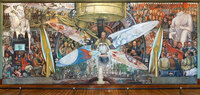 When Mexican artist Diego Rivera was commissioned to do a mural for Rockefeller Center, some may have wondered whether industrialist tycoon John D. Rockefeller Jr. knew what he was getting into.
Read full story...
After A Bitter Struggle, DSO Brings 'Joy' To The People Again
March 9, 2014
The Detroit Symphony Orchestra has struggled financially, but after much work, it's set itself on solid footing and become a bright spot in a struggling city.
Read full story...
Busting Stereotypes To Become A Prima Ballerina
March 9, 2014
Misty Copeland is one of the few African-American solo dancers with the American Ballet Theatre. NPR's Rachel Martin speaks with Copeland about her memoir, Life in Motion: An Unlikely Ballerina.
John Denver's 'Country Roads,' Now Official In West Virginia
March 9, 2014
John Denver's hit "Take Me Home, Country Roads," has just become a state song of West Virginia, an effort spearheaded by the woman married to the actor who played Gilligan on Gilligan's Island.
The Rebound, The Intersection Of Self-Containing Half Spaces
March 9, 2014
Did you miss the MIT conference on sports analytics? Slate's Mike Pesca tells NPR's Rachel Martin about the new tracking technology used in basketball, which puts rebounding in whole new light.
A Senator's Long And Patient Recovery From Stroke
March 9, 2014
Two years ago, Republican Sen. Mark Kirk of Illinois was paralyzed on his left side by a stroke. NPR's Rachel Martin talks to him about his recovery and his hopes for other stroke victims.
Search Continues For Malaysian Airlines Wreckage
March 9, 2014
An oil slick was spotted off of Vietnam's coast, but relatives of those on board the Malaysia Airlines flight still don't know what happened. NPR's Rachel Martin speaks with reporter Anthony Kuhn.
Ruben Studdard Tells What Happens The Day After 'Idol'
March 9, 2014
Ruben Studdard wowed the judges and the American public when he won American Idol in 2003. NPR's Rachel Martin speaks with Studdard about his Idol win and what life and music has been like since.
Do We Really Need The Air Force?
March 9, 2014
The military is a huge bureaucracy with many redundancies. NPR's Rachel Martin speaks with University of Kentucky's Robert Farley, who argues that we need air power, but not a separate Air Force.
Beyond Sanctions, Obama Has Few Russia Options
March 9, 2014
The U.S. can squeeze Russia economically for sending troops into Crimea, but Obama needs Europe's support for sanctions to work. NPR's Rachel Martin speaks with correspondent Mara Liasson.
Russian Troops Continue Movements In Crimea
March 9, 2014
As the standoff continues in Crimea, Russia warns the U.S. against "hasty" sanctions. Ukraine officials accuse pro-Russian forces of armed aggression.
Libertarians Move In To Make A Small N.H. Town Even Smaller
March 9, 2014
Grafton, N. H., is so tiny, it doesn't even have a stop light, but a group of Libertarians have moved there with an eye to slashing spending. It's made some residents angry.
Read full story...
Rebuilding A Life And A City After Years On Detroit's Streets
March 9, 2014
After years of selling drugs and serving prison time in Detroit, Isaac Lott now works to help reclaim abandoned homes. He says he is hopeful about his own future, as well as the future of the city.
Read full story...
City Versus Suburb A Longstanding Divide In Detroit
March 9, 2014
Detroit has long been a city divided among racial and economic lines. As the city attempts to recover, some see the change as an opportunity to heal those old wounds.
Read full story...
15 Seconds To Nowhere: Goldsprints Bring Bikes To The Bar
March 9, 2014
You'll find bike racers indoors this winter, racing in bars. At goldsprints racing events, the arena contains stationary bicycles, rowdy crowds and beer.
Read full story...
A High Five On The Seven Seas
March 9, 2014
For each five-letter word provided, insert two letters after the first letter to complete a familiar seven-letter word.
Read full story...
Picking Apart Detroit To Make It Whole Again
March 9, 2014
There are an estimated 80,000 abandoned buildings scattered throughout Detroit. As the city tries to navigate its bankruptcy, part of Detroit's recovery plan involves deconstruction and demolition.
Read full story...
Hi Ho Spaniard! An Iberian Desert With Spaghetti Western Roots
March 9, 2014
Some of Hollywood's most popular Westerns were filmed in Spain's Tabernas Desert. Today those sets are used in Western-style theme parks for bank heists, shoot-outs and saloon shows.
Read full story...
What The U.S. Can Learn From Finland, Where School Starts At Age 7
March 8, 2014
Finland, a country the size of Minnesota, beats the U.S. in math, reading and science. The country's top education official says investing in preschool and day care is key.
Read full story...