Ex-Guatemalan President Extradited To U.S.
May 24, 2013
Alfonso Portillo was taken from a hospital bed in Guatemala City and flown to New York to face charges of laundering $70 million through U.S. banks.
Read full story...
Toronto Mayor Dodges Accusations Of Crack Cocaine Use
May 24, 2013
Melissa Block talks to Toronto Star reporter Kevin Donovan about the video that appears to show Toronto Mayor Rob Ford smoking crack cocaine.
Elected Leadership Struggles To Rule In Libya
May 24, 2013
In Libya, guns are still everywhere and the elected leadership is struggling to rule as militias use guns and intimidation when they don't get their way. Most recently they surrounded two ministries and state television to force through a political isolation law that bars former members of Moammar Gaddafi's regime from government posts.
Print Media Thrives In Myanmar Where Internet Is Limited
May 24, 2013
Although print media is often seen as past its prime in the U.S. and Europe, in many Asian countries such as China and India newspapers are thriving and expanding. One example is Myanmar, also known as Burma, where only 1 percent of the people have access to the Internet, and private daily newspapers are rushing into print after decades of being banned.
James Joyce Coin-troversy Reportedly Could Have Been Averted
May 24, 2013
Irish banking officials should have known there were problems with the controversial 10-euro coin commemorating James Joyce, according to Ireland's RTE News. The coin misquotes the author's Ulysses, and bears an image of Joyce that his estate did not approve.
Read full story...
2 Men Arrested After Pakistani Jet Is Diverted Over U.K.
May 24, 2013
Something happened aboard the flight from Lahore, Pakistan, to Manchester, England. Royal Air Force fighters were scrambled and the plane was ordered to land at an airport in Essex.
Read full story...
British Soldier Hacked To Death Was 'Our Hero,' Family Says
May 24, 2013
As Lee Rigby's family struggles with grief, they're speaking about the young man's love of life. He was killed Wednesday. Witnesses heard — and recorded — the attackers saying that they were angry about the deaths of Muslims during the wars in Iran and Afghanistan.
Read full story...
Explosion, Gunfire Reverberate In Kabul
May 24, 2013
Witnesses say the blast happened in the late afternoon. The sound of shots followed. As night fell, at least two attackers were dead. A small number of civilians had been wounded. Offices of the International Organization for Migration appear to have been targeted.
Read full story...
Assad Regime Agrees To Attend Peace Conference, Russia Says
May 24, 2013
Russia and the U.S. have been trying to set up talks aimed at ending more than two years of brutal fighting in Syria. What's still unclear, however, is who would speak for the opponents of President Bashar Assad's regime.
Read full story...
China's Air Pollution: Is The Government Willing To Act?
May 24, 2013
There is some political willingness, but because China is highly decentralized politically, the Communist Party has only limited influence over provincial governments and how they regulate their dirty factories. The powerful state-owned oil companies have also resisted pressure to produce cleaner-burning fuel.
Read full story...
Iranian Council: Ex-President Rafsanjani Unfit To Run Again
May 24, 2013
The Iranian presidential election is just weeks away, and voters are faced with a very narrow range of pro-regime candidates to choose from. All the high-profile or independent candidates have been eliminated by the Guardian Council. One man considered unfit to run has already held the post of president.
Can This Man Bring Silicon Valley To Yangon?
May 24, 2013
A Stanford MBA who used to work for Google returned to Myanmar to be an Internet entrepreneur. But it's tough to start an Internet company in a country where the power goes out every day.
Read full story...
Syrian Rebels Continue To Clash With Hezbollah-Backed Forces
May 23, 2013
Robert Siegel speaks with Anne Barnard, Beirut bureau chief for The New York Times, about clashes between Syrian rebels and government forces backed by Hezbollah fighters.
More Young Syrians Flee Home Lives To Face The Unknown
May 23, 2013
Over the past few months, the security situation in the Syrian capital Damascus has been deteriorating. For many Damascenes, the city they always called home is no longer a livable place. They can't make a living anymore, and everyday is a risk that tempts fate. In an exodus from Damascus, many young professionals are abandoning their lives at home to flee abroad and face the unknown.
Four Arrested After British Soldier Hacked To Death In London
May 23, 2013
The two men charged with killing a British soldier in south London on Wednesday were apparently on a government watch list, raising questions about why authorities were unable to prevent the attack.
One Of London Attack Suspects Had Troubled Past
May 23, 2013
Robert Siegel speaks with Sandra Laville, crime correspondent for The Guardian, about what's known about the suspect in the Woolwich attack in London on Wednesday.
A Look Ahead To The Flash Point In The South China Sea
May 23, 2013
Beijing continues to pressure its neighbors over strings of disputed areas in the South China Sea that reportedly hold massive deposits of oil and gas. The ongoing disputes raise serious questions about China's goals in the region and how the United States should address escalating tensions.
Pitbull Gets 'Epic': 'You Constantly Have To Defend Your Success'
May 23, 2013
Armando Christian Perez — better known as Pitbull or Mr. Worldwide — has sold five million albums and had No. 1 hits in more than 15 countries. He tells NPR's Michel Martin about using music as an escape and playing a well-dressed toad in the animated film Epic.
Read full story...
Reports: Obama To Limit Drones, Urge Action On Guantanamo
May 23, 2013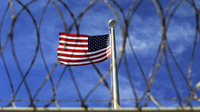 The president is set to deliver Thursday what's being billed as a major address on national security. Officials are telling news outlets that he'll be addressing two controversial topics: The use of drones to kill suspected terrorists; and the closing of the Guantanamo Bay detention center.
Read full story...
As Myanmar Reforms, Indonesia Offers Some Lessons
May 23, 2013
Recent sectarian strife in Myanmar threatens the country's nascent democratic reforms. Not so long ago, Indonesia faced similar challenges. Now, it's a thriving democracy.
Read full story...