Food Tech Leaves Rural People Behind
April 24, 2014
Technology enhanced food production has come a long way, but nearly an eighth of the population still suffers from chronic hunger. The United Nations' Kanayo Nwanze discusses what might help.
Israel Halts Peace Talks After Palestinian Unity Move
April 24, 2014
The Israeli cabinet on Thursday endorsed Prime Minister Benjamin Netanyahu's decision to suspend talks because the Palestinian Liberation Organization and Hamas are moving to form a unity government.
Read full story...
Obama: Japan's Administration Of Disputed Islands Shouldn't Change
April 24, 2014
A standoff over sovereignty of the Senkakus, also claimed by China — which calls the chain Diaoyu — has been a source of deep tension between the two countries in recent years.
Read full story...
Snoopy, Garfield And Friends Go Bald For Kids With Cancer
April 24, 2014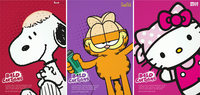 Kids don't want to look different, especially if the reason they look different is because they've lost their hair to chemotherapy. If Hello Kitty's gone bald, too, maybe it won't feel so bad.
Read full story...
Saddened Students Return To Ferry Disaster Victims' School
April 24, 2014
More bodies were recovered Thursday from the ship, which sank last week. So far, at least 171 deaths have been confirmed. Another 131 people, many of them students from one school, remain missing.
Read full story...
British Men Win Equal-Pay Claim Against University
April 24, 2014
At issue was how much money the 18 men – carpenters, plumbers and caretakers – employed by the University of Wales, Trinity St. David, made compared with female workers on the same pay scale.
Read full story...
No Breakthrough: 'Object Of Interest' Isn't From Missing Jet
April 24, 2014
A large piece of metal was found this week along the coast of western Australia. But authorities are convinced it is not debris from Malaysia Airlines Flight 370, which disappeared on March 8.
Read full story...
Three Americans Dead After Shooting At Kabul Hospital
April 24, 2014
Authorities say an Afghan security guard opened fire at a hospital run by a U.S.-based Christian group. Two victims were reportedly a father and son. Another U.S. citizen is said to have been hurt.
Read full story...
U.S. Ramps Up Aid To Syrian Rebels
April 24, 2014
The U.S. is increasing both arms and training assistance to the Syrian rebels. Advocates of the program say they hope to change the situation on the ground, others doubt it will help much.
Obama: U.S. To Defend Japan In Territorial Disputes With China
April 24, 2014
President Obama is in Japan for the start of his four-nation Asia visit. The trip aims to assure U.S. allies that they're not forgotten, even as China gets more bullish with its neighbors.
Sherpas Walk Off The Job After Deadly Avalanche
April 24, 2014
Sixteen Sherpas died in Nepal last week after an avalanche swept them off the face of Mount Everest. While some are boycotting the climbing season, others say they can't because it's their livelihood.
U.N. Blames Rebel Forces For South Sudan Massacre
April 24, 2014
Hundreds of civilians have been massacred in the South Sudan town of Bentiu. For more, Steve Inskeep talks to Andrew Green, the South Sudan bureau chief for the Voice of America.
After Bangladesh Factory Disaster, Efforts Show Mixed Progress
April 24, 2014
One year ago, a factory building in Bangladesh collapsed, killing more than 1,100 workers. Top retailers have begun inspecting factories more aggressively, but other steps have fallen short.
Read full story...
Obama Gets A Taste Of Jiro's 'Dream' Sushi In Name Of Diplomacy
April 23, 2014
On the first leg of his Asian tour, the president stopped by the iconic sushi restaurant. David Gelb, who directed a documentary about the restaurant, says eating there is amazing and nerve-wracking.
Read full story...
Brazil Becomes One Of The First To Adopt Internet 'Bill Of Rights'
April 23, 2014
President Dilma Rouseff signed the bill into law to kick off an international conference about the governance of the Internet.
Read full story...
CIA Is Quietly Ramping Up Aid To Syrian Rebels, Sources Say
April 23, 2014
The White House has decided to provide more covert training and weapons, including anti-tank missiles, in a bid to counter President Bashar Assad's growing strength in the civil war.
Read full story...
Unbeliebable: Justin Offends Asian Fans With Shrine Visit
April 23, 2014
While visiting Tokyo, the pop star posed for photos in front of the highly controversial Yasukini Shrine, which honors Japanese war criminals.
Read full story...
Slowly And Sweetly, Vietnam's Chocolate Industry Grows
April 23, 2014
French colonists planted cacao in Vietnam in the 1800s, but the crop was outpaced by coffee and cashews. Now French expats are helping the country become a respected producer of high-end chocolate.
Read full story...
Chile Wildfire Litters Questions In The Ash Of Burned-Out Homes
April 23, 2014
In Chile, a fire that started in the hills above Valparaiso continues to burn. The blaze has killed 15 people and destroyed 2,500 homes in the area that surrounds Valparaiso. Reporter Alexandra Hall looks at some of those affected.
Moscow Answers Ukrainian Offensive With Warning Of Its Own
April 23, 2014
Russian foreign minister Sergei Lavrov said his country would respond if its citizens or interests came under attack in Ukraine. At the same time, the interim Ukrainian government has called for a new offensive on pro-Russia militants holed up in government buildings across eastern Ukraine. Western diplomats are scrambling to find a way to de-escalate the crisis.