Bangladesh Executes Islamist Leader For War Crimes
December 12, 2013
Jamaat-e-Islami leader Abdul Quader Mollah was hanged Thursday for crimes committed during the country's 1971 war of independence. He's the first person convicted by Bangladesh's International Crimes Tribunal to be executed.
Read full story...
Pakistan's Fearless Chief Justice Challenged The Powers-That-Were
December 12, 2013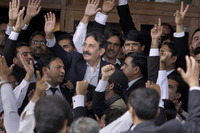 He defied a military dictator, sacked a prime minister, and persistently called generals and intelligence chiefs to account. He sought to assert the rights of the impoverished multitude. Iftikhar Chaudhry, and his push for a more independent judiciary, changed the balance of power in his turbulent nation.
Read full story...
Did India 'Turn Back The Clock Back' On Gay Rights?
December 12, 2013
India's Supreme Court ruled Wednesday that gay sex is illegal, four years after the ban was struck down by a lower court. For more on the ruling and how Indians are reacting, host Michel Martin checks in with journalist and LGBT commentator Sandip Roy.
Does President Obama Have Bad Manners?
December 12, 2013
World leaders gathered to remember Nelson Mandela this week. But critics say there were some major social blunders made by President Obama, like taking 'selfies' and shaking hands with Cuban leader Raul Castro. Host Michel Martin asks Dorothea Johnson of The Protocol School of Washington, about head of state etiquette.
Indian Officials Vow Steps To Overturn Gay Sex Verdict
December 12, 2013
The decision by the Supreme Court on Wednesday to restore a colonial-era ban on homosexual acts has sparked outrage. One prominent commentator said the verdict shows "how liberal democracies can sometimes give rein to a regime of oppression and discrimination under the imprimatur of law."
Read full story...
Mandela Sign Language Interpreter Says He Had Schizophrenic Episode
December 12, 2013
Thamsanqa Jantjie was widely criticized as a "fake" for his performance at Nelson Mandela's memorial service. He now says he was hearing voices and seeing hallucinations, according to media reports.
Read full story...
Amid Cuts And Tax Hikes, Tech Companies Get Love in Ireland
December 12, 2013
Ireland has made a concerted effort to grow its tech industry, through tax incentives and development programs. Officials credit the initiative with helping uplift the country's economy. But the country has also faces local and international criticism for its approach.
Read full story...
Mexico's Patron Saint Is Also Its Hello Kitty
December 12, 2013
As many as 6 million pilgrims have made their way to the Mexican capital to pay homage to the Virgin of Guadalupe on Thursday. One woman has turned the country's most revered religious icon into a cartoon characterization, using it to build a multimillion-dollar company.
Read full story...
Why The Timing Is Right For Uruguay To Legalize Pot
December 12, 2013
Uruguay is poised to legalize the production and sale of marijuana to regulate the drug and scale back its black market. Steve Inskeep talks with John Walsh of the Washington Office on Latin America about how the country proposes to regulate pot.
Ukraine Protesters Blame Violence On Government Thugs
December 12, 2013
A major concern among peaceful anti-government protesters crowding into Kiev's central square is that Ukraine's government is trying to provoke violence in order to justify a police crackdown. In one incident, according to protest organizers, the government used provocateurs.
South Africans Say Goodbye To Mandela In Pretoria
December 12, 2013
Nelson Mandela is lying in state for a second day in South Africa's capital, Pretoria. It's a chance for one last glimpse of the country's most beloved leader. The remote location of Sunday's burial — far away in Mandela's home province — means that for most, filing past his casket is their final farewell.
Nelson Mandela Lies In State In Pretoria Before Sunday Burial
December 11, 2013
South Africans were given a chance to say farewell to Nelson Mandela in Pretoria, where his body will be lying in state until Friday. He will be buried on Sunday in his home village of Qunu.
Pope's Propensity For Shaking Things Up Makes Him Man Of The Year
December 11, 2013
Time magazine has named Pope Francis as its Person of the Year. The magazine cited Francis' willingness to take on thorny issues such as homosexuality, the role of women in the church, poverty and the nature of capitalism. At the same time, the pontiff has done so while projecting an air of humility and compassion, which has captured the world's attention in just nine months.
Ukrainian Protestors Look Outside Their Borders For Support
December 11, 2013
After surviving an icy night of confrontations with riot police, protestors in Ukraine feel that they have won an important round in their effort to force President Viktor Yanukovich to resign. They have gotten strong words of support from U.S. diplomats, but they say it's now time for more than words. They say the next step is to marshal international support for sanctions against the president and his inner circle.
U.S. Suspends Aid To Some Syrian Rebels
December 11, 2013
The United States has suspended shipments of non-lethal aid to Syrian rebels across the Turkish border. The move came after Islamist militants seized a warehouse full of supplied equipment and other aid supplied by the U.S. that had been under the control of the secular Supreme Military Council. Islamist groups have gained considerable ground in northern Syria in recent months in clashes with secular rebels and Kurdish militiamen.
We Found This 20-Year-Old T-Shirt In Kenya. The Internet Found The Original Owner
December 11, 2013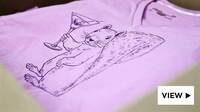 Clothes donated to charity in the U.S. often wind up for sale in African markets. Here's the story of one shirt that started out at a bat mitzvah in Michigan and wound up in a market in Nairobi.
Read full story...
Mystery Bidder At French Auction Plans To Return Sacred Hopi Items
December 11, 2013
Twenty-four items sold for $530,000 this week in Paris. The Los Angeles-based Annenberg Foundation turned out to be the buyer, and says it stepped in after a French court rejected efforts to halt the auction.
Read full story...
Who Is The Next Mandela?
December 11, 2013
As Nelson Mandela is laid to rest, guest host Celeste Headlee asks if there's another activist who might galvanize the world in the same way. She speaks with Nicholas Kristof of The New York Times and Human Rights First's Brian Dooley.
Is Pope Francis Really 'The People's Pope'?
December 11, 2013
Time magazine has named Pope Francis its Person of the Year, calling him "The People's Pope." Francis has called on the Roman Catholic Church leadership to emphasize compassion and prioritize caring for the poor. Host Michel Martin speaks to a panel of Catholic leaders to hear their thoughts on Pope Francis.
Read full story...
U.S. Suspends Some Aid To Syrian Rebels
December 11, 2013
The U.S. is suspending non-lethal aid because of infighting among the various factions opposed to President Bashar Assad. The rebel Free Syrian Army, which has lost ground in recent days to an Islamist group, criticized the decision. the U.K. also has reportedly decided to halt aid.
Read full story...