The Players In The Battle For India's Soul
April 19, 2014
The numbers from India's election are staggering: 814 million potential voters, nine stages of voting over six weeks. They are the biggest in the world. Correspondent Julie McCarthy talks with NPR's Arun Rath about the candidates vying for power.
Russia's Military: Threatening Enough To Avoid Using Force?
April 19, 2014
Russia is in the middle of a planned upgrade and expansion of its military forces, but global affairs professor Mark Galeotti tells NPR's Arun Rath that Russia's military has its limits.
Despite Easter 'Truce,' Standoff In Ukraine Appears Steadfast
April 19, 2014
In the Ukrainian city of Donetsk, the opposing camps seem increasingly entrenched, despite a diplomatic effort to ease tensions. Pro-Russian forces refuse to leave occupied buildings and public squares in the east. It's an uneasy Easter weekend and neither side is willing to budge.
Mount Everest: Avalanche Death Toll Rises To 13
April 19, 2014
Search teams are digging through ice and snow on Mount Everest in hopes of finding Sherpa guides who are still missing. Survivors say the avalanche was like being trapped in a cloud.
Read full story...
Pakiastani TV Journalist Hamid Mir Wounded In Attack
April 19, 2014
Prominent TV anchor Hamid Mir is in a Karachi hospital after gunmen opened fire on his car Saturday afternoon. Mir's car was reportedly ambushed by attackers who were riding motorcycles.
Read full story...
Ancient Landscape Is Found Under 2 Miles Of Ice In Greenland
April 19, 2014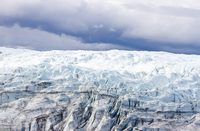 A revelation goes against widely held ideas about how some glaciers work, and it suggests that at least parts of Greenland's ice sheet survived periods of global warming intact.
Read full story...
Ukraine Calls An Easter Truce In Clash With Militants
April 19, 2014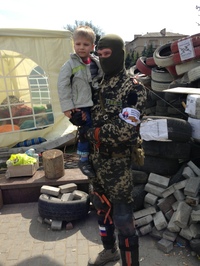 Citing recent progress and the Easter holiday, Ukrainian officials say they've suspended an "anti-terrorist operation" aimed at pro-Russian forces who have occupied government buildings.
Read full story...
Captain Apologizes As Death Toll Rises In S. Korea Ferry Accident
April 19, 2014
The captain of the 6,852-ton ferry has been criticized for allowing 30 minutes to pass before giving an evacuation order. He has been arrested, even as a recovery effort continues.
Read full story...
Bringing Poetry And High Culture To Sao Paulo's Periphery
April 19, 2014
Poetry in an unlikely place: In a grim urban shanty town in the middle of Sao Paulo, budding poets from the poorest sections of Brazilian society get together weekly to compose and recite poetry.
Avalanche Sweeps 12 Sherpas Off Mt. Everest
April 19, 2014
Twelve sherpas died in a recent avalanche on Mount Everest. Climber Conrad Anker explains that the guides were helping prepare a route for hundreds of climbers expected for the coming summer season.
Syrian Rebel Stronghold On The Verge Of Government Takeover
April 19, 2014
The Syrian city of Homs has been a rebel stronghold since the anti-government uprising began. But one rebel tells NPR that they're low on ammunition and medical gear.
Putin Tries To Sell Ukraine's Muslims On Russian Rule
April 19, 2014
Russian President Putin is reaching out to Muslims in Crimea. Professor Robert Crews tells NPR's Wade Goodwyn that Putin is trying to build alliances in the Muslim world to weigh against the West.
Captain, 2 Crew Members Arrested In S. Korea Ferry Sinking
April 19, 2014
The search continues for hundreds of people, mostly students, who were on board a South Korean ferry when it sank this week. Correspondent Anthony Kuhn shares the latest with NPR's Wade Goodwyn.
Polio Threatens To Spread Through Central Africa
April 19, 2014
A polio outbreak in Cameroon has spread to Equatorial Guinea and threatens to move throughout Central Africa. Before the outbreak, Equatorial Guinea had been free of polio for nearly 15 years.
Agreement Could Avert Ukrainian Civil War
April 19, 2014
World leaders agreed to end the occupation of Ukrainian government buildings by pro-Moscow militants. But militants have said Kiev's government must step down first. Ari Shapiro talks to Wade Goodwyn.
Obama Adds Malaysia To His Asia Itinerary
April 19, 2014
Obama travels to Malaysia next week, where the government is under fire for the handling of a missing airliner. NPR's Wade Goodwyn talks to Joshua Kurlantzick of the Council on Foreign Relations.
A Journey Of Pain And Beauty: On Becoming Transgender In India
April 18, 2014
Abhina Aher is a member of the country's storied, yet marginalized, transgender community. Last week, the India's highest court legally recognized the group as a new gender — neither male nor female.
Read full story...
Are Democrats Trying To Energize The Base With The Race Card?
April 18, 2014
Top Democrats have said recently that some GOP opposition to President Obama and his agenda is based on race. It's an explosive message that might drive Democratic voters to the polls.
Read full story...
Somalis In Kenya Are Used To Raids, But They Say This Was Different
April 18, 2014
A police sweep after Friday prayers is the latest in a weeks-long crackdown against terrorism. The operations have pulled in thousands of refugees, immigrants and Kenyan citizens of Somali descent.
Read full story...
Disaster On Everest Marks Deadliest Day In Mountain's History
April 18, 2014
More than 13 Nepalese climbers died while preparing a route on Mount Everest for Western climbers. Grayson Schaffer of Outside Magazine explains that local porters and guides bear the brunt of the danger on these extreme climbs.