British Aircraft Carrier HMS Ark Royal Heads For Scrap Yard
May 20, 2013
The former Royal Navy flagship fell victim to a 2010 defense review that recommended scrapping the vessel and selling its Harrier jump jets.
Read full story...
An Ancient Religious Pilgrimage That Now Draws The Secular
May 20, 2013
The 1,200-year-old European pilgrimage route known as the Way of St. James is undergoing a revival. Tens of thousands of people are walking across France to the Spanish coastal city of Santiago de Compostela, and the relics of St. James. Once a religious affair, it's now a cultural and social phenomenon as well.
Read full story...
Iran's 'Zahra' Tells Alternate Tale Of Presidential Campaign
May 20, 2013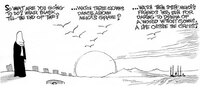 What do you do when you can't openly wage a campaign for the presidency? Some Iranians inside and outside the country have turned to the heroine of an online graphic novel who has embarked on a virtual campaign.
Read full story...
Former U.S. Ambassador: 'Don't Go Into Blind' To Syria
May 20, 2013
Robert Siegel talks with Ryan Crocker, former U.S. ambassador to both Iraq and Afghanistan, about how lessons learned in those conflicts could inform how the U.S. deals with Syria today. Crocker is now a fellow at the Jackson Institute for Global Affairs at Yale University.
White House Has Renewed Resolve To Close Guantanamo
May 20, 2013
Later this week President Obama is expected to give a major address on counterterrorism; the closing of Guantanamo Bay prison could figure prominently in his address. The president promised to close the facility back in 2009, but he has made little progress in doing so. For the first time in years, the administration is looking to reduce the number of detainees at the island prison.
Pope Francis Puts The Poor Front And Center
May 20, 2013
Shunning the formalities of his office and focusing on poverty, Pope Francis is drawing a sharp contrast between his 2-month-old papacy and those of his predecessors.
Read full story...
Beijing Angry Over North Korea's Seizure Of Chinese Fishermen
May 20, 2013
North Korea's capture of a Chinese fishing boat and its crew of 16 has angered Beijing, adding to its concern over Pyongyang's recent provocations.
Read full story...
Life In Argentina's 'Little School' Prison Camp
May 20, 2013
During Argentina's so-called Dirty War, thousands were abducted and taken to secret prisons like a place known as "the little school," where many were tortured and killed. Guest host Jennifer Ludden talks to a former prisoner, Alicia Partnoy, about her disappearance and her time there.
After Nearly 50 Years, Burmese Leader Comes To Washington
May 20, 2013
It's been a while since the last visit by a head of state from Myanmar. The last time was 47 years ago, when the country was still known as Burma. As President Thein Sein arrives at the White House Monday, some will hail him as a reformer who set his country on the path to democracy. Others may protest his arrival, as excessive recognition for a head of state that has presided over continuing human rights abuses.
Children Of China's Wealthy Learn Expensive Lessons
May 20, 2013
Some super-rich Chinese are sending their kids to weekend classes in order to learn how to deal with money. The lessons include things like a charity sale designed to teach the children compassion, sharing and the value of money.
Read full story...
Seeing The (Northern) Light: A Temporary Arctic Retirement
May 20, 2013
Inspired by a TED talk, Winston Chen quit his software job and moved from Boston to a tiny Norwegian island with his wife and kids. He spent the year enjoying the outdoors with his family and writing an iPhone app, something he would never have done without his self-imposed sabbatical.
Read full story...
Syrian Troops Target Key Rebel-Held Town
May 19, 2013
Qusair is a strategically important town that lies between Homs, where the Syrian uprising began two years ago, and the Lebanese border. If President Bashar Assad's troops – reportedly backed by Hezbollah fighters — regain the town, they would control an important route from the coast to the capital, Damascus.
Read full story...
Young Kenyans Build Mobile Apps For Local Use
May 19, 2013
College students and recent graduates crammed the top floor of a tech hub in Nairobi for a competition built around the theme "Solutions for the Next Billion Mobile Users." Africa has more than 600 million mobile phone users (approximately 11 percent of the global total) – and the number is growing.
Read full story...
Afghans With Disabilities Fight For The Right To Rights
May 19, 2013
Their country isn't an easy place for anyone to make a living, but it's a downright hostile environment for those with disabilities. Support has mostly come from nonprofits, but activists are pressing the government to take action.
Read full story...
Russian Lawmakers: Don't Criticize Soviet Actions In WWII
May 19, 2013
Don't mess with Soviet history, especially when it comes to World War II. That's the message coming from some hard-line Russian legislators who are angry with an opposition lawmaker who criticized Josef Stalin's World War II counterintelligence agency, SMERSH, and likened it to Adolf Hitler's Gestapo.
Read full story...
Spaniard's Song Brings YouTube Fame ... And Maybe A Job
May 18, 2013
Enzo Vizcaíno looks like a busker, strumming away on his ukulele as he roams a Barcelona metro car. But he sings of his bachelor's degree and postgrad diploma. "I'm the King of Microsoft," he croons. He's not looking for a handout. He just wants a job. And his creative approach may be paying off.
Read full story...
Bashar Assad: A Political Solution In Syria Is 'Unreal'
May 18, 2013
The Syrian president also left no room for his departure. "The captain of a ship doesn't flee when faced with a storm," he said during an interview with an Argentine newspaper.
Read full story...
In Zimbabwe, Will Next Election Be More Peaceful?
May 18, 2013
Host Scott Simon talks with NPR's Ofeibea Quist-Arcton about Zimbabwe's upcoming presidential election and efforts to alleviate its international isolation.
Afghan Mineral Treasures Stay Buried, Hostages To Uncertainty
May 18, 2013
Afghanistan is believed to be home to world-class mineral deposits, valued at up to $3 trillion and offering hope for the country's economic future. But in the current environment of uncertainty, investors are nervous and it could be many years before Afghanistan strikes pay dirt.
Read full story...
French President Signs Same-Sex Marriage Into Law
May 18, 2013
Parliament had passed the legislation in April, but the main opposition party challenged its constitutionality. A ruling by the Constitutional Council on Friday paved the way for President Francois Hollande's official blessing.
Read full story...