Are Democrats Trying To Energize The Base With The Race Card?
April 18, 2014
Top Democrats have said recently that some GOP opposition to President Obama and his agenda is based on race. It's an explosive message that might drive Democratic voters to the polls.
Read full story...
In Virginia, Politicians Fish For Support At Old-Fashioned Event
April 18, 2014
Even as technology and social media transform politics, some traditions still live on — like the annual Shad Planking festival in Wakefield. It's a must-attend event on Virginia's political calendar.
Read full story...
Obama: Your Question, Ms. Keith?
April 18, 2014
I had been NPR's White House correspondent for four months. On Thursday, I asked my first question at a presidential press conference. This is how it happened.
Read full story...
Week In Politics: A Deal On Ukraine And Health Care Numbers
April 18, 2014
Regular political commentators, E.J. Dionne of The Washington Post and David Brooks of The New York Times, discuss the breakthrough Ukraine deal and the new health care enrollment numbers.
Pipeline Put Off, As Keystone Review Is Indefinitely Extended
April 18, 2014
It looks as though the "comment period" for the controversial Keystone XL pipeline project will be extended, delaying a decision past the November elections.
Read full story...
Hey, Superheroes On The National Mall: Any Advice For Congress?
April 18, 2014
Gathered in Washington for a comic book convention, these costumed enthusiasts shared how their favorite characters would run the country.
Read full story...
Why Scott Walker Is Looking Beyond His Fan Base
April 18, 2014
Governors in both parties routinely run for re-election while keeping coy about the White House. But there's no question what's on the Wisconsin governor's mind, long term.
Read full story...
Should College Dropouts Be Honored By Their Alma Maters?
April 18, 2014
From a Top Gun sequel starring drones to Howard University's pick of Puff Daddy as its commencement speaker, the Barbershop guys weigh in on the week's news.
New York's Muslims Push For Public Schools To Close For Eid Holidays
April 18, 2014
President of the Muslim Democratic Club of New York Linda Sarsour discusses why she wants the city's public schools to close on holidays like Eid al-Fitr and Eid al-Adha.
To Fight Extremism, Don't Alienate Troublemakers At The Mosque
April 18, 2014
In the fight against Islamic extremism, the president of the Muslim Public Affairs Council says that intervention within the community is more effective than external surveillance and secrecy.
15 Years After Columbine, Are Schools Any Safer?
April 18, 2014
The mass shooting at Columbine High School spurred schools to adopt "zero tolerance" policies. Do they work? NPR Education Correspondent Claudio Sanchez and former principal Bill Bond discuss.
Obama Wants To Sell Exports To Asia, But Critics Aren't Buying
April 18, 2014
As the president prepares to travel to Asia, the White House says a trade deal would boost U.S. exports. But opponents say the Trans-Pacific Partnership would hurt the environment and U.S. jobs.
Read full story...
Chelsea Clinton Announces She's Pregnant
April 18, 2014
Chelsea's parents — Bill and Hillary — sent out tweets confirming the news. The former president wrote that he's excited to add a new line to his Twitter bio: grandfather to be.
Updated Obamacare Enrollment Exceeds Estimates
April 18, 2014
President Obama said enrollment under the Affordable Care Act reached 8 million after the deadline was extended by 2 weeks. The figure represents a turnaround from the disastrous debut of the website.
Sen. Elizabeth Warren Writes Of A Worldview Shaped In Youth
April 18, 2014
In her memoir, A Fighting Chance, Warren reveals a childhood brush with bankruptcy and reflects on hard-won political lessons.
Read full story...
Obama's Favorite County — At Least When It Comes To Giving Speeches
April 17, 2014
The president has visited Prince George's County, Md., four times this year. It is the most affluent county with an African-American majority. It also happens to be very close to the White House.
Read full story...
Chelsea Clinton Says She's Pregnant
April 17, 2014
The 34-year-old daughter of former President Bill Clinton and former Secretary of State Hillary Clinton says she and husband Marc Mezvinsky are "very excited."
Read full story...
Following Enrollment Deadline, Health Care Focus Turns To States
April 17, 2014
President Obama met Thursday with insurance company executives and a separate group of insurance regulators from the states, discussing their mutual interest in administering the new health care law.
Obama: Affordable Care Act Enrollment Hits 8 Million
April 17, 2014
At a White House briefing, the president referred to the Affordable Care Act, saying "this thing is working," and urged Republicans to stop trying to repeal the law.
Read full story...
Hillary Clinton's Presidential Chess Board
April 17, 2014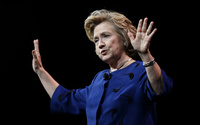 Much of what will happen in the 2016 presidential race — in both political parties — hinges on whether Clinton decides to run. She has said she'll announce by the end of the year.
Read full story...