IRS Official In Charge Of Nonprofits Declines To Testify
May 21, 2013
Lois Lerner, who heads the IRS division dealing with nonprofits seeking tax-exempt status, will not testify on Wednesday despite a congressional subpoena, her attorney says. She is accused of closely scrutinizing conservative groups that sought tax-exempt status.
Read full story...
Former IRS Head To Senate: It Wasn't My Fault
May 21, 2013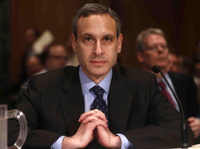 Douglas Shulman, who led the IRS during the years when agency workers targeted tax-exempt applications from conservative groups, did his best to deflect accusations from unhappy senators.
Read full story...
Oklahoma's GOP Senators Find Themselves In Tornado Aid Bind
May 21, 2013
Sens. Tom Coburn and James Inhofe have become the faces of pushback on federal emergency spending. Now the deadly and devastating tornado in their home state has put them in an awkward position.
Read full story...
Why Don't We Pay (More/Any) Attention To Los Angeles Mayoral Elections?
May 21, 2013
After eight years of Mayor Antonio Villaraigosa, Los Angeles voters will pick a, shall we say, more charismatically-challenged successor.
Read full story...
'I Was Dismayed' To Learn What Agency Did, Ex-IRS Chief Says
May 21, 2013
Under Douglas Shulman's watch, IRS personnel singled out some conservative groups for extra scrutiny. That, he conceded Tuesday, has "justifiably led to questions" about the tax agency's motivation.
Read full story...
IRS Officials On Hot Seat
May 21, 2013
Former IRS Commissioner Douglas Shulman and outgoing acting Commissioner Steven Miller are being grilled. The IRS is under fire because some conservative groups' applications for tax-exempt status were given extra scrutiny in recent years. An inspector general has called the actions "inappropriate."
Read full story...
Fox News Reporter James Rosen Caught Up In Federal Probe
May 21, 2013
There is word of another controversial leak investigation by the Department of Justice. The target is Fox News reporter James Rosen, who was monitored by the department after breaking a story about North Korea's nuclear weapons program in 2009.
Unclear Laws May Have Contributed to Tax-Exempt Controversy
May 21, 2013
IRS and Treasury officials can expect a hard time in their appearances on Capitol Hill Tuesday. A key question that so far has not gotten much attention: How did it come to be that social welfare organizations became vehicles for political activity?
Apple CEO Faces Senate Panel's Accusations Of 'Tax Gimmickry'
May 21, 2013
Tim Cook will address reports that his company pays billions less than it should in U.S. taxes each year at a Tuesday hearing in Washington. According to a report by the Senate Permanent Subcommittee on Investigations, Apple avoids the tax payments by shifting profits to subsidiaries in Ireland.
Read full story...
Senate Debates 5-Year Farm Bill
May 21, 2013
The measure includes farm and food subsidies totaling almost $100 billion. Lawmakers have trimmed more than $2 billion in annual farm spending. The question, though, is whether to trim more.
Texas Medicaid Debate Complicated By Politics And Poverty
May 21, 2013
In Texas, it may be politically unwise to cross the governor, but some politicians and advocates in the poor Rio Grande Valley are starting to speak out in support of expanding Medicaid. Gov. Rick Perry opposes all parts of Obamacare.
Read full story...
Turnabout Is Fair Play: Senators Have Many Questions For IRS
May 20, 2013
The IRS gave some conservative groups extra, improper scrutiny. Now there's a bipartisan request for the IRS to answer dozens of questions. Read the queries and demands for information from the top Democrat and top Republican on the Senate Finance Committee.
Read full story...
ABC's Karl Expresses Regret, But Stands By Benghazi Story
May 20, 2013
The White House correspondent's story about administration emails created an uproar. Then a key part of it turned out to be wrong.
Read full story...
Decades Of History Behind IRS Flap
May 20, 2013
Host Michel Martin looks into why some non-profits are tax exempt, and how something like the recent IRS flap could happen. She speaks with David Cay Johnston, a columnist for Tax Analysts and reporter Brentin Mock of Colorlines.com.
Supreme Court Takes Case On Prayer At Government Meetings
May 20, 2013
Prayers said before meetings of the town board in Greece, N.Y., have predominantly been Christian. A lower court ruled that officials hadn't done enough to seek out prayers from other faiths. That violates the Constitution's Establishment Clause, the court said. Now the Supreme Court will weigh in.
Read full story...
Why Congress Has Reasons Not To Be Bipartsan
May 20, 2013
Some political columnists say President Obama needs to exercise more "leadership" to bend a divided Congress to his will. But congressional Republicans have little incentive to cooperate with the president. And the more he "leads," the harder it may be for them to follow.
Is There Really A Second-Term Curse?
May 20, 2013
Whether it's Richard Nixon's resignation or Bill Clinton's impeachment, presidents tend to have a tough time during the back half of an eight-year presidency.
Read full story...
Political Takeaways: Headaches For The White House
May 19, 2013
Controversies dominated this past week's political headlines, leaving the Obama White House on the defensive, trying to contain any lasting damage. Host Rachel Martin talks with NPR's Mara Liasson.
Nonconservative Groups Say IRS Scrutinized Them, Too
May 19, 2013
The IRS has admitted it flagged tax-exemption requests from groups with "Tea Party" or "Patriot" in their names starting in 2010. But some liberal groups and journalism organizations say their applications also faced long delays during the same period.
Read full story...
Tesla Rides High, But Faces Formidable Foe: Car Dealers
May 19, 2013
The Model S from electric car manufacturer Tesla has been named Motor Trend Car of the Year. But the company's business model is under attack by a formidable foe: the National Automobile Dealers Association, one of the most powerful lobbying groups in Washington.
Read full story...