Is Drug Testing For Welfare Fair?
April 24, 2014
Florida Gov. Rick Scott's plan to drug test state workers and welfare recipients ran into trouble in the courts. Law professor Pauline Kim and reporter Curt Anderson discuss the drug testing battle.
Jobless Claims Bounce Up From Earlier Weeks' Low Levels
April 24, 2014
The 329,000 applications filed last week for unemployment insurance were more than economists expected. One theory: Easter's relatively late date may have skewed the numbers.
Read full story...
Small Businesses Fight Big-Box Stores By Specializing
April 24, 2014
As online and mega stores take up more of the retail landscape, small mom-and-pop shops are getting more specific. We examine one of the ways small stores are looking to survive and possibly thrive.
When Money Trumps Need In College Admissions
April 24, 2014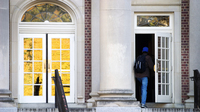 Some of the factors keeping low-income students from getting into college aren't always obvious to the public, higher education insiders tell Morning Edition's David Greene.
Read full story...
Big-Time Home Sales Stoke Hope For Northeast Housing Market
April 23, 2014
Realtors are seeing reasons for optimism in the housing market. As Kaomi Goetz of WSHU reports, one historic home sale suggests the high end of the market is booming again — in Connecticut, at least.
Urban Libraries Become De Facto Homeless Shelters
April 23, 2014
San Francisco's library system has hired a full-time social worker to help find housing and other services for the homeless men and women who've set up camp among the stacks.
Income Inequality Is A Major Barrier To Attending College
April 23, 2014
Morning Edition co-host David Greene talks to Suzanne Mettler of Cornell University, author of the new book, Degrees of Inequality: How the Politics of Higher Education Sabotaged the American Dream.
One Approach To Head Start: To Help Kids, Help Their Parents
April 23, 2014
One Tulsa, Okla., nonprofit believes that improving poor kids' prospects also requires preparing their parents for well-paying jobs. The program's director says managing both is a tough nut to crack.
Read full story...
Subminimum Wages For The Disabled: Godsend Or Exploitation?
April 23, 2014
Activists say a federal law that allows employers to pay people with disabilities pennies per hour is out of date and should be changed. But some say the law is a lifeline for the disabled.
Read full story...
8-Day Asia Trip Critical To Obama's Regional Strategy
April 22, 2014
A key part of that strategy is the Trans Pacific Partnership — a free trade agreement among 12 Asian-Pacific nations. The trade pact would influence geopolitics and the reshape global trade.
Fields And Farm Jobs Dry Up With California's Worsening Drought
April 22, 2014
For the first time in six years, many California farmers have been told they'll get little or no federal irrigation water. And as farms run dry, workers are deciding to pack up and move away.
Read full story...
No Longer Marching Out To Work, More Mothers Stay Home
April 21, 2014
A growing number of American mothers are staying home to raise their children, according to a new report from the Pew Research Center. Listeners share their own stories about making that choice.
A 'Tennessee Promise' To Educate The State's College Students
April 21, 2014
Richard Rhoda of the Tennessee Higher Education Commission discusses a new program that will cover up to two years of community college tuition for all graduates of the state's high schools.
President Obama Will Skip China, But Asia Trip Sends A Message
April 21, 2014
President Obama visits several Asian countries this week. Guest host Celeste Headlee speaks with business journalists Sudeep Reddy and Roben Farzad about what the trip could mean for the U.S. economy.
U.S. Supreme Court To Hear Arguments In Argentina Debt Case
April 21, 2014
The Supreme Court will hear a case on Monday that has wide implications for Argentina's teetering economy and its relations with the U.S. The case has been dragging on for more than a decade.
Scribes Are Back, Helping Doctors Tackle Electronic Medical Records
April 21, 2014
In ancient times scribes were used to record everything from prayers to legal transactions. Now they're making a comeback in the doctor's office, easing the transition to electronic medical records.
Read full story...
California's Drought Ripples Through Businesses, Then To Schools
April 20, 2014
California farmers produce an enormous proportion of American produce, but the state is now experiencing a record-breaking drought that is being felt throughout the U.S.
Read full story...
Tech Week: Earnings, A Heartbleed Arrest And Digital Distraction
April 19, 2014
Fears of a bubble continue as tech titans reported their quarterly earnings; the culture of digital distraction finds more critics; and fallout from the Heartbleed bug raises questions for government.
Read full story...
Airbnb To Start Charging Hotel Taxes In A Handful Of Cities
April 18, 2014
Airbnb and other rental websites have made billions marketing existing housing to tourists, without hotel tax. Soon, Airbnb will start collecting tax in New York City, San Francisco and Portland, Ore.
Read full story...
Gefilte Fish Shortage: Best Thing Since The Parting Of The Red Sea?
April 18, 2014
A shortage of gefilte fish is causing panic in the middle of Passover. But New York Times reporter Matt Chaban says some observant Jews are OK with not having to eat the love-it-or-hate-it appetizer.