Rebuilding A Life And A City After Years On Detroit's Streets
March 9, 2014
After years of selling drugs and serving prison time in Detroit, Isaac Lott now works to help reclaim abandoned homes. He says he is hopeful about his own future, as well as the future of the city.
Read full story...
What Germans Know Could Help Bridge U.S. Workers' Skill Gap
March 8, 2014
American job training programs are failing to turn out enough skilled workers to fill job openings in the U.S. That's puzzling to some Europeans, who have a different system for training workers.
Read full story...
Coming Up: Detroit Symphony Returns From The Brink
March 8, 2014
Just a few years ago, the Detroit Symphony Orchestra was weathering a financial crisis and a bitter labor dispute. Tune in to Weekend Edition on Sunday to hear about its impressive recovery.
Don't Run Out For Caviar Yet, But Wages Are Heading Higher
March 8, 2014
Hourly wage gains of 2.2 percent are exceeding the annual inflation rate, raising hopes that Americans will soon be able to spend more at retailers, car dealers and other businesses.
Read full story...
After Newsweek 'Outs' Purported Bitcoin Founder, Questions Follow
March 7, 2014
A Newsweek cover story explores the identity of "Satoshi Nakamoto," the purported founder of the digital currency Bitcoin. Though it's drawn doubt and controversy, Newsweek is standing by its story.
Behind Ukraine's Political Strife: One Big Utility Bill
March 7, 2014
Ukraine pays most of its citizens' gas bills. That's become hugely expensive for the government — and it's central to the country's conflict with Russia.
Read full story...
February Jobs Numbers Give Some Economists Reason To Smile
March 7, 2014
The February jobs report was better than expected, as employers added 175,000 jobs. The unemployment rate ticked up to 6.7 percent, though, as people who'd given up on finding work were drawn back.
A Native American Tribe Hopes Digital Currency Boosts Its Sovereignty
March 7, 2014
Members of the Oglala Lakota Nation have made their own digital currency — a sort of Bitcoin. They hope that having their own crypto-currency, called MazaCoin, will strengthen their independence.
Read full story...
MasterCard, Visa Team Up To Improve Payment Security
March 7, 2014
The credit-card rivals will join others in the industry to push chip technology to replace the more vulnerable magnetic stripes on most cards in the U.S.
Read full story...
Why All This Fuss Over Satoshi Nakamoto Is A Boost For Bitcoin
March 7, 2014
The media frenzy over the alleged founder of Bitcoin appeals to universal human curiosity. Mystery, intrigue, a dash of conspiracy! If that's not enough to turn Bitcoin into a household word, what is?
Read full story...
Freezing Weather Put A Chill On Economy, Housing Market?
March 7, 2014
Spring is a big season for buying and selling homes, but the housing market has a lot of hurdles ahead. NPR's Senior Business Editor Marilyn Geewax talks about them and the latest job numbers.
February Job Growth Beats Expectations; Jobless Rate Ticks Up
March 7, 2014
The harsh winter weather's impact on job growth in February was less than expected, as U.S. employers added 175,000 jobs to their payrolls last month. The unemployment rate edged up to 6.7 percent.
Jobless Rate Ticks Up, But Job Growth Is Better Than Expected
March 7, 2014
There were 175,000 jobs added to payrolls last month. That's about 25,000 more than economists forecast. The unemployment rate, though, edged up to 6.7 percent from 6.6 percent in January.
Read full story...
Weather Expected To Effect February Jobs Report
March 7, 2014
Did the harsh winter hold down job creation last month? Or did employers brush away the snow and prepare for spring with a new round of hiring? The unemployment report is out on Friday.
Ukraine's Economy Was In Trouble Before Its Crisis With Russia
March 7, 2014
With the IMF and the EU offering loans and grants to Ukraine, there are questions about what sort of conditions to attach to the aid, and where the money will go. Corruption is a big issue in Ukraine.
Seeking Energy Independence, Europe Faces Heated Fracking Debate
March 7, 2014
To stay competitive, Europeans need cheaper natural gas but they also need to be less dependent upon Russia. They're looking at fracking as a solution, but opponents have environmental concerns.
Read full story...
Grocery Chains Safeway And Albertson's Announce Merger Deal
March 6, 2014
Private equity firm Cerberus Capital Management is offering $9.4 billion for Safeway, the nation's second-largest grocery, and plans to combine it with Albertson's, acquired a year ago.
Read full story...
Does Raising The Minimum Wage Kill Jobs?
March 6, 2014
Multiple economists have studied the fast-food industry to answer the question. They've found very different answers.
Read full story...
Beyond Job Titles: What Do You Really Do?
March 6, 2014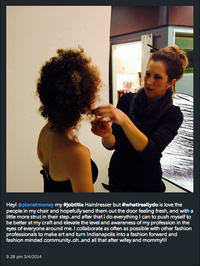 We asked people to send us pictures of themselves at work — and to tell us what they do.
Read full story...
New England Governors Back Obama's Minimum Wage Hike Plan
March 6, 2014
Obama took his push for a higher national minimum wage to Connecticut. The message was welcomed by the governors he appeared with, but back in Washington there isn't much political momentum.