Sending Money On An Overseas Round Trip To Avoid Taxes
April 15, 2014
Some investors avoid paying taxes in a move called round-tripping — shifting money offshore, then investing it in U.S. stocks or bonds. A study estimates it costs the U.S. billions in lost revenues.
Read full story...
Oil Is Not All That's Booming In North Dakota — So Is Drug Trade
April 15, 2014
Local and federal authorities worry over a rise in North Dakota's drug trade. Sharon Cohen of the Associated Press explains the proposed solutions to the issue, which some tie to the recent oil boom.
Alabama Tax Program Grows Out Of A Grandfather's Lasting Legacy
April 15, 2014
In Alabama, Stephen Black is trying to get college graduates to stay in the state and make life better for Alabamans. His inspiration is his grandfather, the late Supreme Court Justice Hugo Black.
Late On Taxes? There's A Way Out
April 15, 2014
It's tax deadline day, but 75 percent of tax payers don't have to do anything by midnight tonight. That's according to Kevin McCormally of Kiplinger's Personal Finance magazine.
Social Security Chief: Women Live Longer, So They Should Save Early
April 15, 2014
For women, lower average career earnings translate into smaller Social Security payments. Acting Social Security Commissioner Carolyn Colvin says women shouldn't wait to start saving for retirement.
Read full story...
When The Wealthy Need Cash, Pawn Shops Can Be Appealing
April 14, 2014
The pawnbroker Borro has high-end customers, but it's not the only pawn shop that caters to the wealthy. Why are the rich turning to a type of credit usually associated with lower-income clients?
Read full story...
The Dangers Of Defaulting On Student Loans
April 14, 2014
Loans allow many students to attend college, but they also leave graduates with big debt. The Urban Institute's Sandy Baum explains how skipping a loan payment could be more trouble than it's worth.
Deficit Forecasts Shaved, But Likely Won't Shrink For Much Longer
April 14, 2014
While the Congressional Budget Office has lowered its shortfall projections for the next few years, it warns that deficits will start rising substantially again unless policymakers act.
Read full story...
A Gold Obsession Pays Dividends For Indian Women
April 14, 2014
Gold is not just about ornamentation in India. It's an insurance policy against bad economic times and bad marriages. Enterprising Indian women are using it to get loans to start small businesses.
Read full story...
Frustrated With Congress, IMF Heads Leave D.C. With Budding Idea
April 13, 2014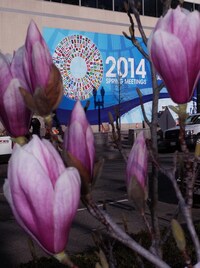 The U.S., the IMF's most powerful member, has refused to sign off on reforms. On Saturday, global leaders suggested the IMF would turn to other options if Congress doesn't act by year's end.
Read full story...
After Austerity, British Economy Declared World's Fastest-Growing
April 12, 2014
In effect, the U.K. is saying "I told you so" after being declared the the fastest growing economy of any rich country in the world. NPR's Scott Simon talks with economist Simon Johnson.
So You Need A Celebrity Book. Who Ya Gonna Call? Ghostwriters
April 12, 2014
Nonfiction shelves are full of memoirs by people who can't actually write. They're brought to you by authors who suppress their own ego to write in a famous voice — in exchange for a hefty check.
Read full story...
Gassy Cows Are Warming The Planet, And They're Here To Stay
April 12, 2014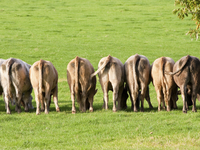 Methane from livestock accounts for a huge portion of agricultural greenhouse gas emissions, according to a UN report. But reducing global meat consumption isn't necessarily the answer to the problem.
Read full story...
Onlookers Show No Worry Over Market's Week In Tumult
April 11, 2014
The stock market endured a volatile week as investors sold off technology stocks. Weak bank earnings added to the sour mix. But the selloff hasn't triggered alarm, and indicators for the broader economy are mostly positive.
'God' Files Suit In New York To Resolve Credit Dispute
April 11, 2014
God Gazarov, a Russian immigrant who owns a jewelry store in Brooklyn, says Equifax won't give him a credit history, suggesting he change his first name to resolve the problem.
Read full story...
Paying Off Student Loans Puts A Dent In Wallets, And The Economy
April 11, 2014
Repaying college debts prevents many Americans from investing in homes or retirement. The impact can add up — for individuals and the economy as a whole, a researcher says.
Read full story...
Wonk Week In Washington: When Briefings Are Better Than Blossoms
April 10, 2014
Let the tourists stare at the cherry blossoms. This week, with its World Bank and IMF meetings, is for the true, serious wonks who just can't get enough of lecture halls and soggy hors d'oeuvres.
Read full story...
Weekly Jobless Claims Drop To Near 7-Year Low
April 10, 2014
There were 300,000 applications filed last week. That's the fewest since May 2007. Economists say the data are another sign that the labor market is gaining some strength.
Read full story...
Many Millennials Expect To Spend Decades Paying For College
April 10, 2014
When Morning Edition asked millennials what their concerns are, almost two-thirds responded college debt. David Greene talks to three women, who are wading through massive college debts.
After Avoiding Bankruptcy, Greece Resumes Bond Sales
April 10, 2014
Over the past 4 years, Greece has endured a crippling debt crisis, and was bailed out twice. David Greene talks to Nick Malkoutzis, editor of Macropolis, an economic and political website in Athens.