As La. Coast Recedes, Battle Rages Over Who Should Pay
April 16, 2014
A flood protection authority is suing to try to hold the oil and gas industries responsible for Louisiana's land crisis. But policymakers are trying to stop the lawsuit, saying it's bad for business.
Read full story...
For A Fast Track To Blossom, Just Send Some Seeds To Space
April 15, 2014
After spending eight months on a Japanese space expedition, a cherry pit that's now four years old has mysteriously blossomed six years before it was due.
Climate Change Adjustments Must Be Fast And Major, U.N. Panel Says
April 13, 2014
Greenhouse gas emissions will have to drop 40 to 70 percent by 2050 — and then drop even more, to nearly zero by the end of this century — a new U.N. report says.
Read full story...
Gassy Cows Are Warming The Planet, And They're Here To Stay
April 12, 2014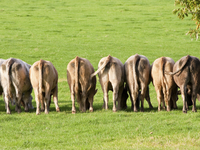 Methane from livestock accounts for a huge portion of agricultural greenhouse gas emissions, according to a UN report. But reducing global meat consumption isn't necessarily the answer to the problem.
Read full story...
When Is Bottled Air Worth $860? When It's A Work Of Art — And Protest
April 11, 2014
A jar of fresh air from southern France, bottled by a Beijing artist, was sold at auction in China for $860. AP correspondent Didi Tang says it's one of many works of pollution protest art in China.
South Texas Oil Brings Boom — As Well As Pollution's 'Toxic Soup'
April 11, 2014
While the South Texas oil boom has meant a flood of cash and people to formerly impoverished communities, there have also been serious repercussions — namely, rampant air pollution.
Read full story...
What's A Breath Of Fresh Air Worth? In China, About $860
April 10, 2014
A Beijing artist who collected a jar of air from Provence, France, sold it at auction "to question China's foul air and express dissatisfaction."
Read full story...
Why Do Some Clouds Drop Rain, While Others Don't?
April 9, 2014
With little relief in sight for California's record drought, scientists are trying to learn why some clouds rain and other don't. As Lauren Sommer of KQED says, they're finding surprising answers.
Federal Plan To Save Prairie Chickens Ruffles State Feathers
April 9, 2014
The federal government just listed the lesser prairie chicken as a threatened species, but states are pushing back hard, saying that restrictions could negatively impact a number of industries.
Read full story...
Food Scraps To Fuel Vertical Farming's Rise In Chicago
April 9, 2014
As vertical farming takes root in cities around the world, critics fear it's leaving a big carbon footprint. An experiment in Chicago turning garbage into energy aims to prove them wrong.
Read full story...
States, Lawmakers Want Feds To Use New Math For FEMA Calculations
April 9, 2014
As a new tornado season begins, Illinois officials say they need more help from the federal government, and Sens. Kirk and Durbin have reintroduced a bill proposing changes to the disaster formula.
Read full story...
NASA Image Shows Volcanic Island Has Annexed Its Neighbor
April 8, 2014
NASA says the Western Pacific island of Nishino-shima has merged with its newly created volcanic companion, forming one larger landmass.
Read full story...
Washington Mudslide Creates Environmental Hazards
April 8, 2014
The Environmental Protection Agency and state Department of Ecology have moved in to monitor water pollution and hazardous materials. Residents living in the area have expressed concerns.
The Future Of Clean, Green Fish Farming Could Be Indoor Factories
April 7, 2014
Aquaculture in the U.S. has lagged because of opposition from environmentalists and people living on the coast. But entrepreneurs say they've found a way to produce fish on land with little pollution.
Read full story...
Feds Hope $5 Billion Settlement A Lesson For Polluters
April 5, 2014
The Justice Department wants the settlement with mining company Kerr-McGee to send a powerful message: corporations can't shirk their responsibility to clean up the toxic legacies of their operations.
Read full story...
The Power Of Poop: A Whale Story
April 5, 2014
Whales are famous for spouts and blowholes. Turns out there's another whale opening that's just as important, but I'm too polite to mention it.
Read full story...
Waters Will Flood Part Of Colorado River, For Just A Few Weeks
April 4, 2014
Thanks to an agreement between the U.S. and Mexico, water is flowing to 35 million people in both countries along the Colorado River Delta. At least for now.
Read full story...
Farmers Need To Get 'Climate Smart' To Prep For What's Ahead
April 3, 2014
Climate change will likely hurt food production, raise food prices and increase hunger. But those calamities may not be inevitable, according to a group of international agriculture researchers.
Read full story...
Should We Close Part Of The Ocean To Keep Fish On The Plate?
April 2, 2014
Tuna, swordfish and other migratory fishes are being overfished by vessels on the high seas. A new proposal says we should close these international waters for a few years to let the fishes rebound.
Read full story...
Concerns Linger For N.C. Residents After Coal Ash Spill
April 2, 2014
It has been nearly 2 months since a metal stormwater pipe ruptured near the Dan River. A federal criminal probe was launched into the relationship between Duke Energy and a state environmental agency.