Israel, Jordan, Palestinians Strike Water-Sharing Deal
December 9, 2013
Under the agreement, Jordan would build a desalination plant and a pipeline would be built from the Gulf of Aqaba to the Dead Sea.
Read full story...
Unrealized, Unforeseen Environmental Results Of NAFTA
December 8, 2013
When the U.S., Canadian, and Mexican governments were negotiating the North American Free Trade Agreement back in the 1990s, environmentalists warned that it would create a race to the bottom: Countries would compete to gut environmental rules to attract businesses. But by and large, those fears were not realized. Still, the trade deal had other unforeseen environmental consequences.
Fishery Closure Puts New England's Shrimp Season On Ice
December 7, 2013
After several years of declining shrimp stocks, regulators have imposed a moratorium on shrimping in New England waters. The closure could hurt commercial fisherman and future demand for the Gulf of Maine shrimp, but scientists say the move may be the only way to prevent the population from collapsing.
Read full story...
Warming Sends A Chill Through Ski Industry
December 7, 2013
Temperatures are rising faster in the winter than in the summer, a trend that will likely have a profound impact on the tourism sector. Host Scott Simon speaks with Auden Schendler, of the Aspen Skiing Company, about how climate change is influencing the winter sports.
Shanghai's Choking Smog Registers 'Beyond Index'
December 6, 2013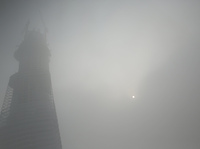 Officials in China's commercial capital ordered schoolchildren to stay indoors, construction to halt and even delayed flights because of the city's highest-ever pollution levels.
Read full story...
How Important Is A Bee?
December 6, 2013
When bees disappeared from central China years ago, Chinese apple farmers had to pollinate by hand. Embarrassing — people doing bees' work, but then came the big discovery –- a surprise that still haunts the conservation movement. What if people outperform bees?
Read full story...
Can Hacking The Stratosphere Solve Climate Change?
December 6, 2013
Environmental scientist David Keith proposes a cheap and shocking way to address climate change: What if we inject a huge cloud of sulfur into the atmosphere to deflect sunlight and heat?
Read full story...
Are We Ready To Hack The Animal Kingdom?
December 6, 2013
Mankind has driven species after species extinct. Now Stewart Brand says, we have the technology to bring back the species that we wiped out. So should we? Which ones? He asks a big question whose answer is closer than you may think.
Read full story...
Mushroom Foraging: When The Fun(gi) Hunt Gets Out Of Hand
December 4, 2013
Foraging for fungi and other wild edibles has grown in popularity in the U.S. and abroad in recent years, fueled by guidebooks, Internet buzz and hype from chefs. As a result, some known mushroom hunting grounds are taking a beating.
Read full story...
Moon Turnips? NASA Takes Gardening to New Heights
December 3, 2013
The space agency has announced plans to grow turnips, basil and cress on the moon by 2015. The experiment could be good news for astronauts sick of their freeze-dried fare. But researchers say the real goal is to see if humans could one day live — and farm — on the moon.
Read full story...
Ready — Or Not. Abrupt Climate Changes Worry Scientists Most
December 3, 2013
To forecast sudden global catastrophe — and, perhaps, head it off — we should be spying on the climate at least as closely as we spy on each other, an expert panel warns. Yet the primary global monitoring network has been cut by 30 percent.
Read full story...
Slashing Fossil Fuel Consumption Comes With A Price
December 2, 2013
The U.S. aims to reduce carbon dioxide emissions by 80 percent by 2050. Wind and solar power can help. But folks doing the math say other pricey, controversial technologies — such as burying carbon gas underground, and expanding nuclear power — are also likely to be part of a low-carbon future.
Read full story...
I'm Not Just Gaming, Ma! I'm Helping The World's Farmers
December 2, 2013
A computer game wants you to help survey the world's cropland. The hope is that the map will be used by organizations around the globe that are working with farmers to manage their crops better and get more out of each harvest.
Read full story...
Australia Disapproves Of Seeds In Katy Perry CD
December 2, 2013
Singer Katy Perry's new album has been adored in some reviews, but one critic is the Australian Department of Agriculture. Seeds included in the CD could pose a threat to the environment there.
Saving The Native Prairie — One Black-Footed Ferret At A Time
December 1, 2013
Biologists armed with truck-mounted spotlights, flea spray, and anti-plague vaccine roam the South Dakota grasslands each night, five months a year, as part of a 30-year rescue mission.
Read full story...
Tech Leaders, Economists Split Over Clean Energy's Prospects
November 30, 2013
Renewable energy has become a $220 billion a year industry. But to significantly slow climate change, the power of wind, solar and other renewable sources must vastly expand. Some say the tech breakthroughs needed are on the horizon, though a top economist sees a tougher road ahead.
Read full story...
'Forecast Bust:' Why 2013 Hurricane Predictions Were So Wrong
November 29, 2013
Forecasters expected the 2013 Atlantic hurricane season to be really busy — the National Oceanic and Atmospheric Administration told Americans to expect between seven and 11 hurricanes. But this year has been one of the quietest on record. Why were the predictions so far off?
By Accident, Scientists Discover Lakes Beneath Greenland
November 28, 2013
There are hundreds of lakes beneath the Antarctic ice sheet, but nobody has found lakes under Greenland's ice. That is until now, and they weren't even looking for them.
How Fracking In Pennsylvania Helps Clear The Air In New York
November 28, 2013
New York has a moratorium on hydraulic fracturing, or fracking, for natural gas, but the region is still benefiting from the drilling boom next door in Pennsylvania. A new pipeline is bringing gas into New York City, pushing down prices and improving the air quality as buildings convert from oil to gas furnaces.
Read full story...
Colo. Fracking Votes Put Pressure On Energy Companies
November 26, 2013
Voters in three Colorado communities passed measures this month limiting the practice of hydraulic fracturing. A close vote in a fourth community means a recount next week. Companies say the measures are creating an uncertain business environment.
Read full story...