Storm Chasers Seek Thrills, But Also Chance To Warn Others
May 21, 2013
When disaster strikes, our natural instinct is to take cover and seek shelter. But in severe weather, especially the type that breeds tornadoes like we saw in Oklahoma and parts of the Midwest this week, there are those who ride toward the storm.
Read full story...
Pat Metheny And John Zorn: A Vivid Sound World
May 21, 2013
The two artists are known opposites in the world of instrumental music. On Metheny's latest, the jazz guitarist wrings an unexpectedly visual listening experience from Zorn's knotty compositions.
Read full story...
'Arrested Development' Leads The Charge For Old Brands In New Media
May 21, 2013
Brands that found their original audiences in traditional, old-media platforms are finding ways to keep going in the world of new media.
Read full story...
Far-Right Historian Commits Suicide In Notre Dame Cathedral
May 21, 2013
Dominique Venner, a well-known French historian who embraced and wrote about ultra-conservative causes for decades, committed suicide today in front of the alter at Notre Dame Cathedral. He had left a post on his blog decrying the legalization of same sex marriage in France. "An infamous law ... can always be repealed," he wrote. "It will require new, spectacular and symbolic actions to rouse people from their complacency."
Apple CEO Defends Tax Practices At Senate Hearing
May 21, 2013
Apple CEO Tim Cook faced tough questions on Capitol Hill on Tuesday. He defended a tax strategy that allows Apple to avoid taxes on tens of billions of dollars of profits. Cook also called on the Congress to lower the U.S. corporate tax rate.
Loss Of Timber Payments Cuts Deep In Oregon
May 21, 2013
Today in Oregon, voters are deciding whether to raise their own taxes to make up for lost timber payments from the federal government. Hundreds of counties in Western states are facing a financial crisis due to the loss of timber payments. Property taxes usually pay for county services such as law enforcement. But counties in states from Colorado to California have vast national forests and can't collect taxes on that land. So Congress created timber payments to compensate them. Now the bill authorizing those payments has expired. Oregon received the largest payments, and more than half its counties face a budget and safety crisis now. Amelia Templeton of Oregon Public Broadcasting reports that in Josephine County, the sheriff has laid of 80 percent of his deputies and no longer arrests people.
JPMorgan Chase CEO Spared By Shareholders
May 21, 2013
JPMorgan Chase shareholders have rejected a proposal to force Jamie Dimon to give up his dual role as both chairman and CEO of the bank. Of the shareholders who voted, 32 percent voted to split the roles. A year ago 40 percent voted in favor.
Moore Residents Slowly Allowed Into Tornado-Damaged Areas
May 21, 2013
It's been a difficult day in Moore, Okla., as crews go house-to-house searching for survivors from Monday's tornado. Authorities have tightened access into areas with the worst damage.
Tech Companies Have A Lot At Stake With Immigration Bill
May 21, 2013
The tech industry is getting a lot in the Senate's immigration overhaul bill. It increases the number of temporary worker visas for skilled technical workers but the industry is pushing for more, including the end of provisions meant to protect American tech workers from unfair competition. The industry's goals and tactics are antagonizing other groups that want to see the bill pass.
Teacher Led Students Through Storm Despite Peril To Daughter
May 21, 2013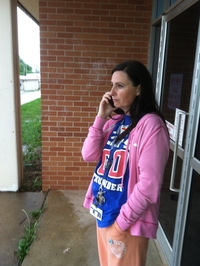 The high school in Moore, Okla., wasn't badly damaged by Monday's tornado. But a special ed teacher stayed with her own students there rather than hunting for her own daughter at a wrecked elementary school.
Read full story...
Book Review: 'King Of Cuba'
May 21, 2013
Alan Cheuse reviews the novel King of Cuba by Cristina Garcia.
New Hospital In Joplin, Mo., Designed With Tornadoes In Mind
May 21, 2013
Robert Siegel speaks with John Farnen, executive director of strategic projects for Mercy Hospital Joplin, regarding lessons of the Joplin, Mo., tornado for rebuilding large structures like the Mercy Hospital Joplin.
'Reinventing The Register' May Take Time For Square
May 21, 2013
Square is the much buzzed-about digital payments company started by the founder of Twitter. With the launch of a new product last week, we check in on the company's promise to revolutionize how we buy things.
Moore, Okla., Tornado Was 'Storm Of Storms'
May 21, 2013
Melissa Block and Robert Siegel give the latest in Oklahoma after a huge tornado tore through the state on Monday.
IRS Inspector General To Review Handling Of Conservative Groups
May 21, 2013
One commissioner ran the IRS when it engaged in targeted scrutiny of conservative groups applying for tax-exempt status. A second commissioner was in charge when the agency continued to withhold information from Congress. On Tuesday, they testified together for the first time, to the Senate Finance Committee.
As FEMA Heads To Oklahoma, Agency Worries About Finances
May 21, 2013
President Obama has promised the people of Moore, Okla., that the U.S. is "there for them, behind them, as long as it takes." That means, at least in part, sending in FEMA to provide disaster relief: temporary housing, loans, equipment and repairs. And while there appears to be enough money for now, there is some concern that between sequestration and political gridlock, money could become an issue.
China Builds Museums, But Filling Them Is Another Story
May 21, 2013
China has been building museums with abandon, opening about 100 annually in recent years. Two of the biggest opened on the same day last fall on opposite banks of Shanghai's Huangpu River. But filling these museums — with both art and visitors — is proving more challenging.
Read full story...
Latest Health Hurdle: Buying Insurance Without A Bank Account
May 21, 2013
Most health plans accept a credit card for the first month's premium and then require customers to pay monthly with a check or an electronic transfer from a bank account. For people without a banking relationship, these transactions can be tricky.
Read full story...
Business Owner Describes Major Destruction After Tornado
May 20, 2013
Melissa Block talks to Casey Mongold, owner of Casey's Tire and Auto in Moore, Okla., where a tornado caused widespread destruction on Monday.
Forecasters Had Chance To Warn Moore, Okla., Before Tornado
May 20, 2013
Melissa Block talks to Jon Hamilton about the science of tornadoes.