Boy Scots Vote To Allow Gay Members, But Not Leaders
May 23, 2013
Members of the Boy Scouts of America voted on Thursday to allow gay members.
'Extremely Active' Atlantic Hurricane Season Predicted
May 23, 2013
Officials are forecasting that hurricane activity will be "above normal" this season, with 13 to 20 named storms. As many as six of those could be major hurricanes. Warm ocean waters and the lack of El Nino conditions are partly to blame.
Read full story...
After The Storm: Students Gather For One More School Day
May 23, 2013
There were hugs and tears, smiles and laughter on Thursday, as students and teachers from Plaza Towers Elementary School, destroyed in Monday's tornado in Moore, Okla., reunited. The school district reopened all of its schools just for the day on what would have been the final day of classes before summer vacation.
Read full story...
Abortion Opponents Try to Spin Murder Case Into Legislation
May 23, 2013
Abortion opponents are hoping the recent murder conviction of Pennsylvania abortion provider Kermit Gosnell will lead to more scrutiny of second trimester abortions. They're working on a bill that would ban most abortions after 20 weeks of pregnancy — nationwide.
Read full story...
Inside A Tart Cherry Revival: 'Somebody Needs To Do This!'
May 23, 2013
The revival is partly based on the humble sour fruit's growing reputation as a superfood. And in Michigan, a scientist is on a quest to introduce a whole new world of hardier, tastier tart cherries by breeding American trees with ancestral varieties from Eastern Europe.
Read full story...
Descending Into The Mariana Trench: James Cameron's Odyssey
May 23, 2013
At nearly seven miles below the water's surface, the Mariana Trench is the deepest spot in Earth's oceans. And the site north of Guam is where director and explorer James Cameron fulfilled a longtime goal of reaching the bottom in a manned craft.
Read full story...
Health Officials Decry Texas' Snubbing Of Medicaid Billions
May 23, 2013
The state is turning down an estimated $100 billion in federal funds that would have paid for health care coverage for more than 1 million poor Texans. For Gov. Rick Perry and the state's Republican-dominated Legislature, the potential appearance of supporting "Obamacare" was too much.
Read full story...
Georges Moustaki, Who Wrote Songs For Edith Piaf, Dies
May 23, 2013
One of France's most beloved songwriters, Moustaki died Thursday in Nice after a long illness. He was known for infusing French song with sounds from around the world.
Read full story...
In La., Families Still Searching For Storm-Scattered Remains
May 23, 2013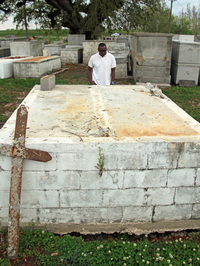 In August, Hurricane Isaac's 12-foot storm surge plowed through cemeteries in Plaquemines Parish, ripping tombs off their foundations and displacing the remains of almost 200 people. About 60 are still unidentified, and at least one is missing.
Read full story...
'Lunch Lady' Author Helps Students Draw Their Own Heroes
May 23, 2013
Can you imagine your own superhero? That's the question author and illustrator Jarrett Krosoczka posed to kids on a recent afternoon at a school in Washington, D.C. Krosoczka also described how he overcame a difficult childhood to become the author of the beloved Lunch Lady series.
Read full story...
Obama Pledges To Be More Transparent About Drone Program
May 23, 2013
In a major speech on counterterrorism on Thursday, President Obama said the war on terror has changed and U.S. policy must be adjusted. He promised to be more forthcoming about the government's targeted killing program for terrorism suspects, and said he was open to talking to Congress about ways to review the use of weaponized drones. Carrie Johnson talks to Melissa Block about the evolving drone policy.
Okla. Family Must Rebuild Tornado-Damaged Home A Second Time
May 23, 2013
In Moore, Okla., cleanup continues from Monday's tornado. One family is debating what to do next. The tornado destroyed the Phillips' home that they built after the 1999 tornado destroyed their previous one.
Obama Details Plan To Pull Back From 'War On Terror'
May 23, 2013
President Obama laid out his counterterrorism plans, including his policy on the use of drones, at a major speech at the National Defense University on Thursday.
Senator Questions White House's Handling Of Drone Program
May 23, 2013
Robert Siegel speaks with Democratic Sen. Ron Wyden of Oregon about the Obama administration's shift on drone policy. Wyden was part of a group of senators who demanded that the administration turn over secret documents related to the operation against Amwar al-Awlaki, a US citizen killed in Yemen in a drone strike.
Boy Scouts Vote On Whether To Allow Openly Gay Members
May 23, 2013
Members of the Boy Scouts of America will vote on Thursday on whether to allow gay members.
Syrian Rebels Continue To Clash With Hezbollah-Backed Forces
May 23, 2013
Robert Siegel speaks with Anne Barnard, Beirut bureau chief for The New York Times, about clashes between Syrian rebels and government forces backed by Hezbollah fighters.
Four Arrested After British Soldier Hacked To Death In London
May 23, 2013
The two men charged with killing a British soldier in south London on Wednesday were apparently on a government watch list, raising questions about why authorities were unable to prevent the attack.
More Young Syrians Flee Home Lives To Face The Unknown
May 23, 2013
Over the past few months, the security situation in the Syrian capital Damascus has been deteriorating. For many Damascenes, the city they always called home is no longer a livable place. They can't make a living anymore, and everyday is a risk that tempts fate. In an exodus from Damascus, many young professionals are abandoning their lives at home to flee abroad and face the unknown.
One Of London Attack Suspects Had Troubled Past
May 23, 2013
Robert Siegel speaks with Sandra Laville, crime correspondent for The Guardian, about what's known about the suspect in the Woolwich attack in London on Wednesday.
Fears Of Killing Immigration Bill Doomed Same-Sex Amendment
May 22, 2013
Amid warnings the proposal would shatter support for the measure, Democrats backed away from a provision that would allow gay U.S. citizens to sponsor foreign-born spouses for green cards. Advocates for gay and lesbian immigration rights accused Democrats of caving in to threats.
Read full story...