We Found This 20-Year-Old T-shirt In Kenya. The Internet Found The Original Owner.
December 11, 2013
Clothes donated to charity in the U.S. often wind up for sale in African markets. Here's the story of one shirt that started at a Bat Mitzvah in Michigan and wound up in a market in Nairobi.
Read full story...
Funk, Faust And Stone: Three Stunning Albums From 2013
December 11, 2013
Deceptive Cadence host Anastasia Tsioulcas talks with All Things Considered host Audie Cornish about three essential classical and world music releases from 2013 from very different parts of the globe: Bartok's Hungarian dancing, a percussion epic from Alaska and sweaty Nigerian funk.
Read full story...
House, Senate Negotiators Announce Deal To Avert Another Shutdown
December 10, 2013
House and Senate negotiators said late Thursday that they reached a budget deal. The agreement would restore some of the automatic spending cuts known as sequestration, and includes some relatively small deficit reduction over the next two years. Rep. Paul Ryan, R-Wisc., and Sen. Patty Murray, D-Wash., hammered out the deal, which they characterized as a step in the right direction that would avoid another government shutdown in mid-January if both the House and Senate approve the budget.
Indie-Pop Albums That Make The Cut Are More Than Mere Collections
December 10, 2013
This week we're looking back at the year in music with a peek at NPR Music's 50 Favorite Albums of 2013. It's the annual list assembled by our in-house experts, including NPR music writer and editor Stephen Thompson. He tells Audie Cornish about his picks in the world of indie pop.
Ex-Brazilian President Kubitschek Was Murdered, Commission Says
December 10, 2013
In Brazil, an investigative commission has released a report that says ex-president Juscelino Kubitschek, thought to have died in a 1976 car accident, was murdered by the 1970's military regime.
Iran's Rouhani Needs A Nuke Deal To Balance Big Budget Cuts
December 10, 2013
President Hasan Rouhani has presented a draft budget for the coming Iranian fiscal year, which begins in March. It stands in stark contrast to the rosy revenue estimates and big-spending budgets of his predecessor, Mahmoud Ahmadinejad. Economists say in real terms, accounting for Iran's still-high inflation rate, the Rouhani budget is a whopping 70 percent smaller on the spending side. And despite the optimistic talk from Iran's oil minister, the budget does not assume any significant rise in oil and gas revenues. Analysts say Rouhani's clear-eyed fiscal approach is a welcome change. But it puts even more pressure on nuclear negotiators to reach a comprehensive agreement with six world powers that will lead to the lifting of oil and banking sanctions, so the private sector can begin to fill the void left by the shrinking public spending.
Song, Dance And Rain As South Africa, World Bid Mandela Farewell
December 10, 2013
Thousands gathered to remember and celebrate the life of Nelson Mandela Tuesday despite a downpour of rain. As one attendee said, "Mandela endured 27 years in prison. I can suffer through a day of rain."
Volcker Rule Sets Tough Standards, High Regulatory Expectations
December 10, 2013
Federal regulators moved to tighten banking rules to curb risky trading on Wall Street Thursday. The so-called Volcker rule, part of the 2010 Dodd-Frank regulatory overhaul, would preclude banks from making risky bets on their own accounts. Audie Cornish talks to Simon Johnson, a professor at MIT's Sloan School of Management, for more on what the rules will mean.
Regulators Tighten Bank Rules To Curb Risky Wall Street Trades
December 10, 2013
Officials at the Federal Reserve, the FDIC and the SEC signed off on new banking rules Tuesday. Under the so-called Volcker rule, banks will be barred from trading in their own accounts, but will still be able to buy and sell on behalf of clients. Big investment banks will no longer be able to own hedge funds or private equity firms. The new regulations took more than three years to complete.
St. Paul, Minn., Preps Break Record For Largest Snowball Fight
December 10, 2013
Seattle broke the Guinness World Record for largest snowball fight in January with 5,834 participants. St. Paul, Minn., hopes to top that next month during its Beer Dabbler Winter Carnival. For more, Melissa Block speaks with Joe Alton, a project manager for the carnival and its snowball-fight organizer.
After Rules Change, Senate Democrats Pushes Forward With Nominees
December 10, 2013
Democrats who control the Senate invoked the so-called "nuclear option" to make it easier for them to approve President Obama's nominations several weeks ago. On Tuesday, they put that option to use, ramming through approval for a new appeals court judge and unblocking the nomination of a new director for the Federal Housing Finance Agency.
French-Backed Forces Try To Stem Bloodshed In CAR
December 10, 2013
French-backed African forces are making some headway to restore calm in the capital of Central African Republic. But humanitarian groups say the international response has been too slow as the conflict in the mineral-rich country takes on sectarian tones, pitting Muslims against Christians.
Study: Organic Milk Contains More Healthy Fatty Acids
December 10, 2013
The journal PLoS ONE has a new study that finds organic whole milk has more heart-healthy omega-3 fatty acids than conventional milk. It's being cited by organics advocates as clear evidence that organic milk is more nutritionally beneficial than conventional milk.
Is Obama-Castro Handshake A Step Toward U.S.- Cuba Thaw?
December 10, 2013
President Obama shook hands with Cuban President Raul Castro at the memorial service for Nelson Mandela Tuesday. It is believed to be the first handshake between leaders of the two countries since President Clinton greeted Raul's brother Fidel Castro at a U.N. meeting in 2000.
Global Dignitaries Join Thousands Of South Africans To Say Goodbye To Mandela
December 10, 2013
Tens of thousands of South Africans, joined by global dignitaries, gathered at Johannesburg's FNB Stadium in Soweto Tuesday to honor Nelson Mandela, who died last week.
Texas Ice Storm Plus Sand, Traffic Equals 'Cobblestone Ice'
December 10, 2013
The cold snap that hammered Dallas five days ago is still creating problems. Thousands of people remain without power. Some truckers remain trapped at rest stops. And an unusual phenomenon called "cobblestone ice" is hampering crews from de-icing interstate bridges, overpasses and off-ramps.
Read full story...
GM's New CEO Will Be First Woman To Drive A Major Car Company
December 10, 2013
One day after the government sold off its stake in General Motors, the automaker announced a new CEO Tuesday. Mary Barra will become the first female head of a major auto company.
To Get Olympic Snow, Machines Give Nature A Nudge
December 10, 2013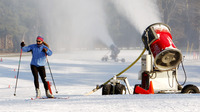 The 2014 Winter Olympics will unfold in a resort town on the relatively warm Black Sea — a testament to how far man-made snow has come in recent years. The strategy to supply snow includes a massive system of more than 550 machines — plus insulated blankets to protect piles of already-made white stuff.
Read full story...
New Orleans' Rat Fighters Go Beyond Baiting Traps
December 10, 2013
Since Hurricane Katrina, the hated rodents have flourished in piles of trash and blighted buildings. But when simply setting traps didn't work, city officials decided to take a more methodical approach to rat control. They're attacking the problems that invite the rats — and they're winning.
Read full story...
As Inflation Soars, Venezuela's Leader Opts For Drastic Steps
December 10, 2013
Inflation in Venezuela — which has hit 54 percent this year — is among the world's highest. Basic goods like toilet paper and milk are out of reach for the average consumer. Presidential orders for business owners to empty their warehouses and slash prices are delighting shoppers, but dismaying shop owners.
Read full story...