Sports: Playoffs, Hard Hits, Soccer Kicks
May 18, 2013
Host Scott Simon talks to ESPN's Howard Bryant about the NBA playoffs, Washington Nationals outfielder Bryce Harper's collision with a wall, and David Beckham's retirement from soccer.
What A Week: White House Rattled By Controversy
May 18, 2013
NPR's Ari Shapiro joins host Scott Simon to talk about the Obama administration's week. The president was buffeted by revelations that the IRS had targeted Tea Party groups seeking tax-exempt status and that the Justice Department had subpoenaed reporter phone records. On top of that, Republicans continue to allege that the White House engaged in a cover-up of talking points about the attack in Benghazi, Libya.
After Health Issues, Influential Conductor Back At Met Opera
May 18, 2013
Host Scott Simon speaks with New York Times classical music critic Anthony Tommasini about conductor James Levine's return to the Metropolitan Opera after a series of health problems kept him away for two years.
When Alcohol Takes The Wheel: What's Your Limit?
May 18, 2013
This week, the National Transportation Safety Board recommended lowering the legal limit of blood alcohol content for drivers to .05 or even lower. Currently, it's illegal to drive in all states with a BAC of .08 or higher. Host Scott Simon speaks with Dr. Anthony Liguori of Wake Forest School of Medicine about alcohol's impact on driving ability.
Media Covers Itself In Privacy Debacles
May 18, 2013
Host Scott Simon talks to NPR's David Folkenflik about the Justice Department's seizure of phone records of Associated Press reporters and editors, and Bloomberg's secret monitoring of its sources' and customers' activities.
Local Story Shows 'Plain Dealer' Prowess, But Future's Murky
May 18, 2013
NPR's Scott Simon talks to Connie Schultz, former columnist and Pulitzer Prize-winning journalist for the Cleveland Plain Dealer. Starting this summer, the paper's owners will be reducing home delivery to three days a week and making huge cuts in the newsroom staff.
Prime Challenge Sends Mathematicians On Infinite Search
May 18, 2013
University of New Hampshire professor Yitang Zhang announced this week that he has come close to solving a centuries-old problem: proving the twin prime conjecture. Host Scott Simon gets an explanation from Weekend Edition Math Guy Keith Devlin of Stanford University.
Highly Charged IRS Case Pulls In Political Agendas
May 18, 2013
NPR's Peter Overby reports on the Congressional testimony of IRS officials in response to the scandal over special scrutiny of tea party groups. Underneath all the politics, there's a policy question that hasn't been addressed.
In Zimbabwe, Will Next Election Be More Peaceful?
May 18, 2013
Host Scott Simon talks with NPR's Ofeibea Quist-Arcton about Zimbabwe's upcoming presidential election and efforts to alleviate its international isolation.
Immigration Bill Chugs Along, But Some See Deal-Breakers
May 18, 2013
The bipartisan immigration overhaul proposed by the Senate's Gang of Eight has been the target of scores of amendments. So far, the bill has largely held its own, but its prospects for getting through Congress are uncertain.
Read full story...
Afghan Mineral Treasures Stay Buried, Hostages To Uncertainty
May 18, 2013
Afghanistan is believed to be home to world-class mineral deposits, valued at up to $3 trillion and offering hope for the country's economic future. But in the current environment of uncertainty, investors are nervous and it could be many years before Afghanistan strikes pay dirt.
Read full story...
Dan Brown: 'Inferno' Is 'The Book That I Would Want To Read'
May 18, 2013
Dan Brown, author of the blockbuster The Da Vinci Code, is back with his first novel in four years. Inferno follows academic hero Robert Langdon on a chase through Italy as he attempts to avert a biological catastrophe.
Read full story...
Turning Up The Heat On Civil Rights-Era Cold Cases
May 18, 2013
With the death of a possible suspect in one notorious case, activists are weighing the FBI's efforts to tackle cases from the 1950s and '60s. Some are calling for a congressional hearing to see whether the FBI has done enough investigating.
Read full story...
Ana Popovic Shreds The Belgrade Blues
May 18, 2013
The Serbian guitarist fell in love with American blues music as a kid — well before she could understand the words.
Read full story...
'That's That': A Memoir Of Loving And Leaving Northern Ireland
May 18, 2013
Colin Broderick's new memoir, That's That, chronicles his childhood in Northern Ireland during the modern-day "Troubles." Broderick says growing up in what was essentially a war zone seemed normal to him at the time.
Read full story...
Astronaut Chris Hadfield's Most Excellent Adventure
May 18, 2013
Hadfield just spent 146 days up at the International Space Station, during which time he performed rock concerts and shared his dazzling photographs with nearly a million Twitter followers.
Read full story...
Working Women On Television: A Mixed Bag At Best
May 18, 2013
Research shows that prime-time television isn't a bad place to find portrayals of working women. Working moms and working women over 40 are another story.
Read full story...
Not Your Grandpa's RV: This Roving Lab Tracks Air Pollution
May 18, 2013
Atmospheric scientist Ira Leifer installed special air sensors on a camper, then drove from Florida to California, measuring methane levels all along the way. More than 6,000 readings later, he found some noticeable spikes, especially around petrochemical plants and urban areas like Los Angeles.
Read full story...
Audra McDonald, A Broadway Star Gone Roaming, Comes Home
May 18, 2013
After extended jaunts in TV and on the road, McDonald's first new album in seven years marks a return to her roots in musical theater.
Read full story...
Pakistanis 'Defy Violence' To Vote In Landmark Election
May 11, 2013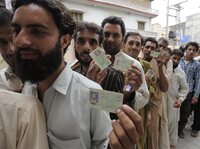 Though the campaign was marred by violence and there were more attacks on Saturday, voters turned out in large numbers.
Read full story...