Michiana Chronicles writers bring portraits of our life and times to the 88.1 WVPE airwaves every Friday at 7:45 am during Morning Edition and over the noon hour at 12:30 pm during Here and Now. Michiana Chronicles was first broadcast in October 2001. Contact the writers through their individual e-mails and thanks for listening!
Michiana Chronicles: Planting Seeds And Other Optimistic Acts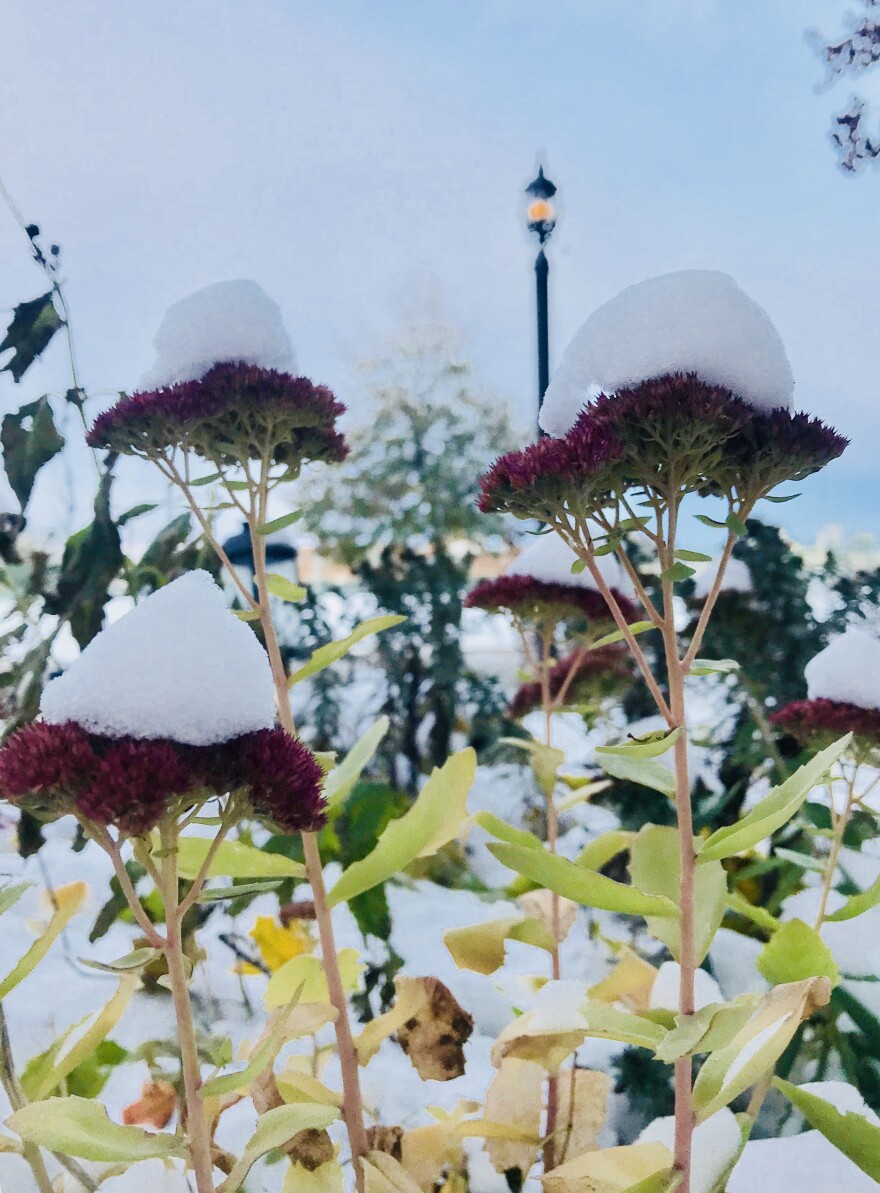 We're only halfway through November, but this month already feels operatic in scale. To review, we've endured: elections and their roiling aftermath, the choppy waves of the impeachment hearings, the transit of Mercury, the full moon, and the sudden onset of polar-powered lake-effect winter. Sometimes, I'm with Meg, from Little Women, who groused, "November is the most disagreeable month in the whole year."
But more often, I'm with Jo March, plunging forward with optimistic gusto (and, obviously, I can't wait for Greta Gerwig's cinematic retelling of Louise May Alcott's Little Women, arriving in the more agreeable month of December). Summoning my inner Jo, I barreled, headlong, into burying delights for the next growing season -- bare roots, seeds, and bulbs -- in our small city garden plots. And now the early snow reminds me of the wonders that await.
I relish the ritual of putting gardens to bed, and I did a few things my habitual way: cutting the last, brave blooms of pink dianthus, snowy dots of alyssum, and purple salvia to tuck into small ceramic vases all over the house. And, as in years past, I trenched and thumbed into soft soil about a hundred pearly and pointy cloves of garlic for my community gardening pals, cheered by optimistic botanical names like Purple Glazer and Great Lakes Hardneck, ready to swell into culinary glory by next July.
I am trying lots of new things, though, this year. With late-summer birds and cicadas as my soundtrack, I spaded up more of our grass to build deeply curving berms for vines, grasses, and native bloomers, inspired by friends who are sustainability experts. Even a small urban yard, when planted with native species blooming from May to November, can bolster the corridors for pollinators and birds. I had no idea that there are over 400 species of bees native to Indiana, and they — and other pollinators — need a variety of flowers all season long. The "Bringing Nature Home" program through the Shirley Heinze Land Trust can certify and celebrate naturalized gardens in our area, if you need an incentive.
So, with my notebook in hand, I toured the late-summer bonanza of blooms in the native-planted yard of my ecologist colleague, Deb Marr, scribbling advice and savoring the names of plants that I placed into my own yard as soon as I could order them from a native nursery. Who could resist Prairie Blazing Star or Sneezeweed, along with the explosive pinks of Wild Bergamot? Some plants arrived on our doorstep as dry lengths of bare roots, turning a gardener into a conjurer who coaxes a gossamer spell from a dry magic wand. So, into the soft soil went knobby roots for Wild Ginger, Sweet Joe Pie Weed, and Solomon's Seal, with its arching stems ringing with small white blooms that mature into bruise-colored berries for birds.
Generous friends divided and dug plants to share, and I tucked in those transplants with eggshell-sparkled compost, trying to keep track on my muddied garden map where I put the spicebush and ferns, and a few different clematis and vasevines ready to bloom in waves of pinks and white along our arching fence. I fought back my weakness for cultivated tulips by investing in the small teardrop bulbs of native trout lilies, or dogtooth violets, and now I can't wait to see their slice of lemon petals in beds where our white trillium has naturalized.
But mostly, as someone who usually puts seeds in the ground in springtime, I'm drawing inspiration from the native seeds I planted this fall that require cold stratification to break their dormancy. That's nature, in a nutshell. On days of heart-wrenching politics, I remember a sign from a local rally, one carried around the world, "They tried to bury us, but they didn't know we were seeds."
My view out the window at my established front garden beds looks different this year. I finally listened to experts and didn't cut back the spindly stems, which still hold seeds and protection for birds and other critters. Capped with tiny cones of this week's snow, the spent blossoms look whimsical and chummy, hanging out and tutoring me … to wait. Rest, and let the cold seep in, break open the possibilities, and trust that weathering will sweeten the springtime. And without rushing the cozy months ahead, I still love knowing that flowers are coming.
Music: Antonio Vivaldi's "Soventi il Sole" aria from Andromeda Liberata; featuring Anne Sophie von Otter, mezzo-soprano; Daniel Hope, violin; and The Chamber Orchestra Of Europe