UPDATE: Two Tornadoes Touch Down in South Bend Sunday
NEW:
The National Weather Service confirms a second tornado touched down in St. Joseph County Sunday night, in addition to the EF-2 tornado that was previously confirmed.
The second tornado was an EF-0 with winds of 65-70 mph that touched down for a half mile in South Bend near Roosevelt Road east of Ironwood.
ORIGINAL POST:
An EF-2 tornado touched down on the south side of South Bend Sunday night. No one was killed or injured in the storm but there is plenty of clean-up to be done.
St. Joseph County crews were out in the morning clearing trees out of the road so utility trucks could come in and fix six electric poles downed by the storm.
The worst of the damage was to Growing Kids Learning Center on Ireland Road. The roof and a track through it's east side are practically gone. Debris from the building and playground is scattered everywhere.
Marissa didn't want her last name used. She lives behind the daycare center and says she works there.
"I went down and I saw and I'm like 'oh, no.' It went right straight through where we take the kids for a safe spot during the tornadoes."
No one was in the building at the time.
Mike Garatoni is the owner of Growing Kids. He said they've been beefing up their emergency preparedness plan recently. All parents and staff will have known what happened right away.
He said they're working to assess the damage and figure out where the kids will go. "The plan is, we're going to figure out alternatives for our parents that are enrolled, cause those folks count on us. We'll take care of them, take care of our staff."

Garatoni said they're not sure at this point whether they will rebuild, or tear it down and build a new facility. "It definitely needs more than a coat of paint and some new carpet."
People in the area had little warning that the storm would be bad.
Petra Reinoehl lives close to the daycare. She brought her granddaughter out in the morning to see the damage. She said they didn't know what was happening until after it happened.
"And all of a sudden the lights went out but after the lights went out, that's when the tornado siren came on. So it must have hit already, you know?" Reinoehl said.
David Davenport lives behind Growing Kids. He had some major tree damage in his yard, he said he didn't know either.
"I was watching television, watching the High Wire Act on Television," he recalled. "And the sirens went off, no news came on about it, telling us it's at least a warning or whatever. So I walked to the back door and I said 'here it comes' and we took off for the basement."
Dan Herman lives behind Growing Kids too. He had several trees ripped out in his yard. "We planted that oak tree with the kids, and now it's gone. There's several that we planted with the kids down the hill, and they're all gone."
After the daycare, the tornado moved north, cutting a path through the trees to the west of Irish Hills Apartment Complex. There is a lot of tree damage, some roof, siding and window damage, and a few cars with busted windshields.
One of those cars belongs to Amanda Collins. "My other van was sitting next to it and this one had nothing, thank God," Collins said. "My daughter and my husband were in the van when it came and it lifted them up. So maybe the tree falling on it is what saved them. It was terrifying."
Theresa Newbill Brown lives in Irish Hills. She didn't have any damage to her apartment, but "Now we got all these trees. No power, no nothing," she said. "And I have never seen nothing like that in my 59 years."
From Irish Hills the tornado moved North toward St. Paul's Senior Living Facility. The campus had lots of downed trees and is running on generators. There was no structural damage, though one window was broken by a tree branch.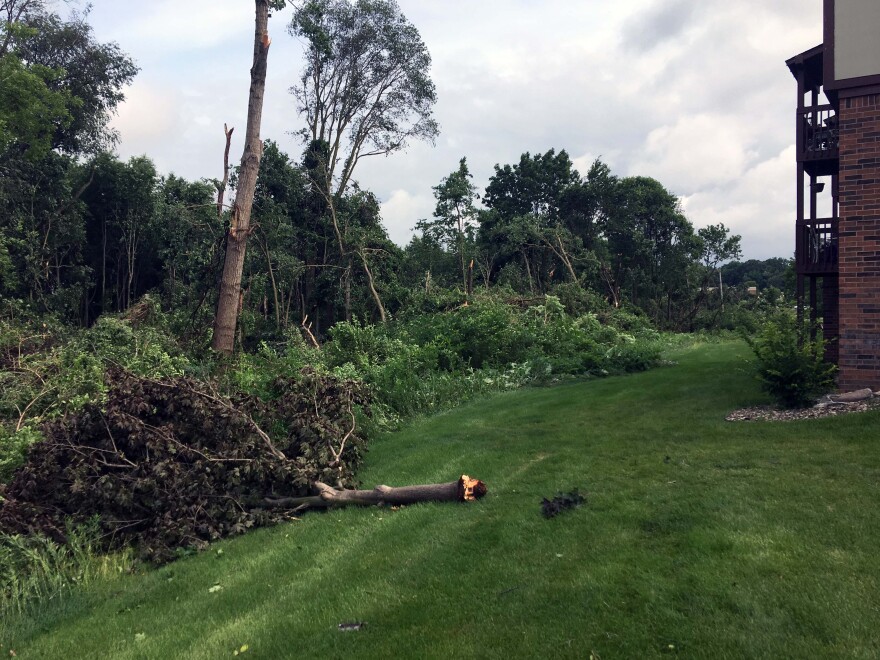 The national weather service classified the tornado as an EF-2 with winds up to 125 miles per hour. It's path was two miles long and 200 yards wide.
What's left now for those in the area, is clean-up.