Masks Optional At Penn-Harris-Madison Schools This Fall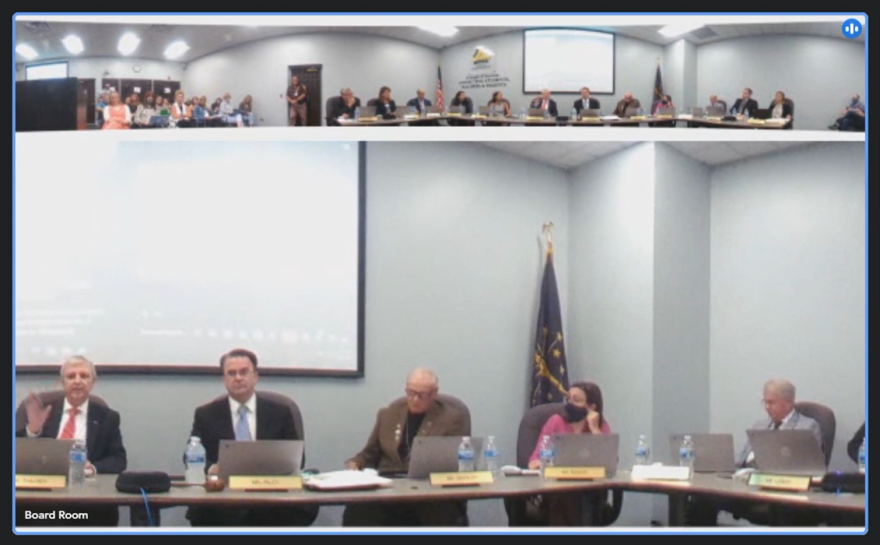 Masks will be optional at all Penn-Harris-Madison schools this fall following a 5-2 school board vote Monday night.
The South Bend Community School Corporation approved a universal mask mandate last week, but masking is still optional in many other local school districts, including Elkhart, Concord and Goshen Community Schools.
P-H-M board member Clare Roach questioned why P-H-M's policy was optional when the Centers for Disease Control, the American Academy of Pediatrics and the St. Joseph County Department of Health all recommend universal masking in schools.
"If the Saint Joseph County Sheriff's Department, the Indiana State Troopers, the FBI and the National Sheriff's Association all gave us guidance about school safety, do you think it's appropriate to disregard that?" Roach asked at Monday's meeting.
Superintendent Jerry Thacker said it was more important for each family to use the guidance from health officials to make their own decisions about masking.
Board President Chris Riley said different state and local metrics can confuse parents, reinforcing the need for each family to make its own decision. He also said imposing a mask requirement would only continue the pandemic's adverse effect on student performance.
"To children who are learning to read, masks pose challenges. To children with IEPs, children with hearing and auditory disabilities, masks pose challenges," Riley said. "I am not willing to impose a mandate that will affect their education to the extent that it will unless it's required by law."
Of the 20 parents that spoke at the meeting, more than half questioned the board's decision, citing concerns about the more transmissible Delta variant. Almost half of those who spoke against the mask policy were local medical professionals.
"This is not a personal decision," Dr. Omar Jahangir, current chair of medicine at Elkhart General Hospital, said. "A child that is not wearing a mask can transmit COVID to my child, who did not make that personal decision to be infected."
The board's decision was based in part on St. Joseph County's "blue" status on the Indiana Department of Health's COVID-19 tracking map. However, St. Joseph County's most recent COVID-19 metrics put the county's new daily case county in the red.
Some board members asked for a more specific plan on how the district's policies would change if the pandemic worsens in the county.
"When it comes to our K through fifth graders, I guess I just have trouble not knowing what the next steps are if we have to pivot quickly," board member Jaye Galloway said. "I hope that our administration can keep looking into that."
Thacker said school officials will continue to meet with local health officials and assess the data regularly.
"None of us in here would ever place the students in harm's way," he said. "If something turns into a nightmare for the community and for the United States –– obviously, we're going to make sure that we're making adjustments."
The first day of school for P-H-M students is Wednesday, Aug. 18.
CORRECTION: A previous version of this story identified a P-H-M board member as Jane Galloway. That was incorrect. Her name is Jaye Galloway.
Contact Gemma at gdicarlo@wvpe.org or follow her on Twitter at @gemma_dicarlo.
If you appreciate this kind of journalism on your local NPR station, please support it by donating here.